Silverton Accommodation, Hotels, Tours & Information
Silverton
This outback ghost town is the location of more than 140 films and commercials and was once a vibrant and busy mining town. You've already seen Silverton and on the silver screen. It has appeared in films including Bryan Brown's Dirty Deeds, Mad Max II and Priscilla, Queen of the Desert as well as the Castlemaine XXXX beer advertisements and the Royal Flying Doctor television series. Cinematographers are attracted by the clear light, the haphazardly placed colonial buildings full of character, the wide streets, the famous pub and the magnificently evocative scenery. Silverton is the ideal image of an outback town. Prospectors began working in the area in 1867. They'd heard a tale of a gold find by a local station hand and unfortunately, his claim turned out to be a pretext for stealing a horse. Some years later though, two men drilling a well on Thackaringa station to the south hit a lode of silver. Silverton's population grew from 250 in September 1883, to 500 by December 1883 and 1700 by December 1884, with all the prospectors living in slap-dash huts of iron and canvas. Many of the diggers came from South Australia's copper mines, which were depleted by that time, but Silverton also had a reputation for harbouring various undesirables and horse thieves, cattle duffers and mining sharks. Silverton's high grade ore was quickly removed. With the boom in Broken Hill, many miners carted their homes to the Silver City and by 1901, Silverton was home to only 286 people. Now, Silverton is a picturesque cluster of buildings, with a restored gaol, opened in 1889, some art galleries and artists' studios, such as the John Dynon, Horizon and Peter Browne Galleries and the celebrated Silverton Hotel, with its desert backdrop, a replica of Mad Max's car in front and film memorabilia inside. Silverton is situated 25 kilometres north west of Broken Hill. Access is via a sealed road. Once a thriving community of more than 3000, it is now a ghost town. There are no fuel supplies. Other attractions include Mundi Mundi Lookout, Umberumberka Reservoir and a heritage walk.
Silverton: Where To Go / Sightseeing
Silverton Photography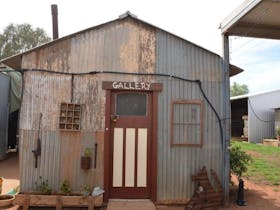 Call in and see Helen Murray at her Silverton Gallery, the result of a hobby gone crazy. The collection includes photographs of Silverton and surrounding areas depicting flooding creeks, tranquil reflection pools, dust storms, sunrises, sunsets and so much more. There's something for everyone and every budget, great gift ideas. While you're there, check out Helen's garden. It's full of unique water features, lots of old stuff and great bird life. Entry is by donation.
Lot 10,
Umberumberka Road
Silverton, NSW, 2880
Located 0.1K from Silverton
Penrose Park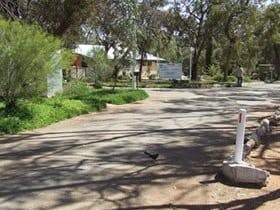 Whether you're after a quiet family picnic, an eventful weekend or a week away from it all, Penrose Park is the place for you.
Powered camping and caravan sites are available, with bunkhouses and a large hall available to rent. Toilet and shower blocks are also available.
There's a lot to do for the whole family at Penrose Park. There are tennis courts, children's playgrounds, wood and gas barbecues, walking trails and even a bush golf course.
The Park is a safe haven for animals. Horses, goats, sheep, peacocks and a wide variety of birds dot the landscape. One popular resident is a white crested corella, who always has time for a chat.
Camping and bunkhouse accommodation is available.
Silverton Road
Silverton, NSW, 2880
Located 0.6K from Silverton
Mad Max Museum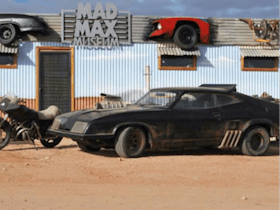 Australia's first and only museum dedicated to Mad Max 2.
Offering a large collection of photographs, life size characters in full costumes, original and replica vehicles including two Interceptor's. Exhibits memoribilia with souvineers also available.
The museum is not just a place for the hard core Mad Max fans but a place where tourists and locals alike can go and discover what an impact Mad Max 2 had on this region and on the Australian film scene.
Stop by to view the amazing collection at the museum, it is certainly well worth a look.
Silverton Road,
2 Sturt Street
Silverton, NSW, 2880
Located 0.9K from Silverton
Silverton Heritage Walking Trail
Take a scenic walk on Silverton's Heritage Walking Trail. It takes around two hours walking time, taking in all of Silverton's sights and historic buildings. During the walk you will go through a railroad cutting and also take in the fantastic Mundi Mundi Plains.
It is recommended that you carry water during the hotter months. Trail maps are available from the Silverton Visitor Centre (Beyond 39 Dips).
This trail is also excellent for mountain biking.
Various locations in Silverton
Silverton, NSW, 2880
Located 1.4K from Silverton
Mundi Mundi Plains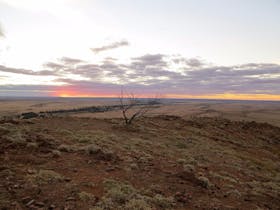 The Mundi Mundi plains lookout is on the edge of the world! From the top of the hill, the flat lands of the Mundi Mundi plains stretch out for an eternity. Take a self-guided walk and take a champagne picnic! Visiting at dusk and watching the sun dip behind the alluvial fans on the edge of the vast plains is an unforgettable experience.
Mundi Mundi plains lookout is located 29 kilometres north of Broken Hill or four kilometres north of Silverton.
Mundi Mundi Plains
Silverton, NSW, 2880
Located 6.7K from Silverton
Wayne Williams Gallery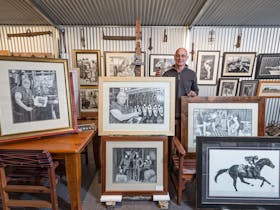 Wayne John Williams hails from Broken Hill and has lived in this rural mining city all of this life. All his works are drawn using black lead pencils on top quality art paper. Wayne's drawings are inspired by photos of race horses. These works require more than 40 hours to complete. The quality and muscle definition is superb with magnificent detail, showing great artistic talent and an eye for beauty. Wayne also draws many other topics. Come and have a look! Commissioned art work welcome.
81 Harris Street
Broken Hill, NSW, 2880
Located 21.6K from Silverton
Riddiford Arboretum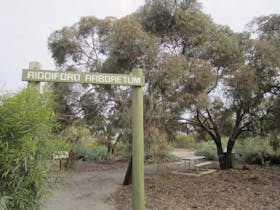 The Riddiford Arboretum features trees and shrubs of the region and is located opposite the Centro shopping centre. It was set up in 1988 on land that was a repair and oil transfer depot for the Silverton Tramway.
It is named after Walter Riddiford, mayor of Broken Hill from 1949 to 1962. But it is also a tribute to Albert Morris, a self-taught botanist who was responsible for establishing the regeneration reserves around the city. The plants in those reserves hold down the local dust and greatly reduced the previously horrible effects of the dust storms that turned day into night.
Galena Street (opposite Centro Shopping Centre)
Broken Hill, NSW, 2880
Located 22.0K from Silverton
Silverton: Events
Outback | Colour | Wind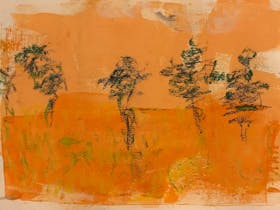 Pop up art exhibition at the Lodge Outback Motel. It has long been their vision to use the public area at the Lodge Outback Motel to display art, so it is with great excitement that they have finally taken the steps towards making this new Broken Hill tourism venture a reality.
The culture and heritage of this building is significant and one that they believe supports their idea. The exhibition that they will be showing is a celebration of the outback and its colours. It will be running in conjunction with the Broken Hill Art Exchange Desert Equinox Solar and wind project.
Each of the featured artists will bring their individual interpretation of the Exhibition title Outback, colour and wind. One of the artists that will be featured is Helene Power, besides being joint owner of the motel she has also worked as a visual artist using soft pastels, pencils and clay.
Her point of focus has been the Australian landscape, taking inspiration from the strong and vibrant energy of the vast plains, the red dirt, the heat intensity and the dust storms; an energy and landscape that stands in strong contrast to Denmark, where she grew up.
Event Dates
2018
      5th Mar
      6th Mar
      7th Mar
      8th Mar
      9th Mar
      10th Mar
      11th Mar
      12th Mar
      13th Mar
      14th Mar
      15th Mar
      16th Mar
      17th Mar
      18th Mar
      19th Mar
      20th Mar
      21st Mar
      22nd Mar
      23rd Mar
      24th Mar
      25th Mar
      26th Mar
      27th Mar
      28th Mar
      29th Mar
      30th Mar
      31st Mar
      1st Apr
      2nd Apr
      3rd Apr
      4th Apr
      5th Apr
      6th Apr
      7th Apr
      8th Apr
      9th Apr
      10th Apr
      11th Apr
      12th Apr
      13th Apr
      14th Apr
      15th Apr
      16th Apr
      17th Apr
      18th Apr
      19th Apr
      20th Apr
      21st Apr
      22nd Apr
      23rd Apr
      24th Apr
      25th Apr
      26th Apr
      27th Apr
      28th Apr
      29th Apr
      30th Apr
252 Mica Street
Broken Hill, NSW, 2880
Located 22.8K from Silverton
Silverton: Travel Tips
Silverton Visitor Information Centre - Beyond 39 Dips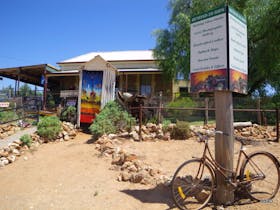 Silverton Visitor Information Centre - Beyond 39 Dips provides a range of information for the tourist and traveller alike, including maps of the town and region, information on local and regional attractions, assistance with accommodation, and other services as required. Lee and Jim also offer a great range of quality hand crafted glass and leather goods made on the premises, and other Australian made goods and souvenirs
2 Layard Street
Silverton, NSW, 2880
Located 0.9K from Silverton
Silverton Map
Silverton Map - Legend

Multiple Hotels

Hotel
Click on the map markers for more information. Hover over the map to zoom in & out or see satellite & terrain views.