Cooktown Accommodation, Hotels, Tours & Information
Cooktown
Cooktown is a small frontier town located in the far north of Tropical North Queensland. Cooktown boasts a unique character that is evidenced from its years of geographic isolation and hard-living, but it is this local charm that makes it all the more appealing. Add to this the unspoilt natural beauty of the area, and you'll really feel like you've stumbled back in time and across a local secret. Cooktown is Australia's first non-indigenous settlement, discovered and settled by Captain Cook and his crew in 1770. Since then, Cooktown has not had it easy. From 1873-83, Cooktown was established as the port for the Palmer River gold rush, which exacerbated race relations between the Europeans, Aboriginals and Chinese. Visit the James Cook Historical Museum to explore Cooktown's interesting past including the gold rush days and Cook's voyages. Another must-see is a visit to Grassy Hill Lookout where you can experience 360 degree views of the countryside and beaches. There is also a walking track from the summit to the nearby beach at Cherry Tree Bay. Every June the town celebrates Cooktown's status as Australia's first European settlement with the Cooktown Endeavour Festival, which includes a colourful re-enactment of Cook's landing. In the past, Cooktown could only be accessed by 4WD's but with the completion of the sealed Cooktown Developmental Road in January 2006, Cooktown is now more accessible to everyone.
Cooktown: Where To Go / Sightseeing
Mary Watson Monument Cooktown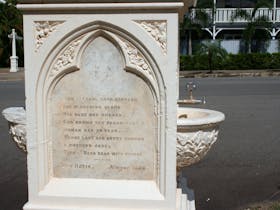 This monument was erected in 1886 by the residents of Cooktown honouring Mrs Mary Watson. Mary, her infant son and Chinese employee Ah Sam, perished from thirst and exposure after fleeing Lizard Island in October 1881. Ironically the memorial includes a water fountain.
Mary Watson's husband Robert had worked a b?che-de-mer processing operation on the island and both lived there after their 1880 marriage. Two Chinese men, Ah Sam and Ah Leong, assisted in the house and garden. Mary gave birth to her son in mid-1881. In September there was a conflict with an Aboriginal group while Robert was away. Ah Leong was killed and Ah Sam wounded.
Mary, the baby, and Ah Sam launched a cut-down ship's tank, and left the island on 1 October. They made it to No 5 Howick Island, which unfortunately lacked fresh water. Mary's last diary entry was on 11 October 1881. Returning to find signs of an attack and his wife and child missing, Watson searched in vain. Mary Watson, her son and Ah Sam's remains were found in January 1882. Mary Watson's story saw her raised to heroic status in Queensland's history.
Charlotte Street
Cooktown, QLD, 4895
Located 0.1K from Cooktown
Milbi Wall (The Story Wall)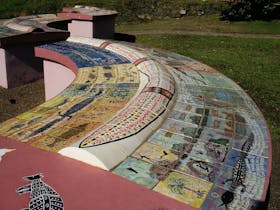 To acknowledge the significance of the first known European contact with the Aboriginal people of the area, Cook Shire Council decided to have a Memorial to tell from an Aboriginal point of view.
Council invited local Aboriginal people to tell their story in ceramic tiles and build a Story Wall right at the spot where, in 1770, Captain James Cook and his crew first set foot.
The Milbi Wall was developed by a group of local Aboriginal artists and storytellers, with assistance from a well-known potter and the Gungarde Aboriginal Corporation.
The 12 metre long Milbi Wall was built in three sections.
Part one explains the Creation Stories and shows how the Endeavour River and Cooktown were made.
Part two commemorates the first historic meeting between Aboriginal people and Captain Cook and his crew. It traces the history of Aboriginal people from the early settlement times and the gold-rush days, until the Second World War.
Part three depicts the important 1967 referendum when the Australian people overwhelmingly recognised the right of Aboriginal people to equality with all other Australians and it shows the advances Aboriginal people have made as well as recognising the problems they have faced.
Charlotte Street
Cooktown, QLD, 4895
Located 0.5K from Cooktown
Cooktown War Memorial
Recruitment for WWI in the Cooktown region drew men from the tin mining industries around Rossville and Shiptons Flat to the south.
After the war, the population of the town was small and early ANZAC commemorations were low key. In 1934 the citizens of Cooktown revived ANZAC Day marking the 16th anniversary of the stand at Villiers Brettoneux. A temporary cenotaph was established at the Cook Memorial. This became the location for future Anzac ceremonies for many years.
The Cook Memorial, a tall sandstone column, is located to the north of ANZAC Park, was unveiled in 1888 when Australia was celebrating its centenary.
The Cooktown RSL later built a memorial to both WWI and WWII soldiers in a park in the main street, renamed ANZAC Memorial Park. The memorials comprise two granite boulders with metal plaques, the largest of which commemorates all who served in WWI. The smaller listing for WWII service reflects the dwindling of the town in the mid-twentieth century. The second boulder is a general war memorial.
Charlotte Street
Cooktown, QLD, 4871
Located 0.5K from Cooktown
Mount Cook National Park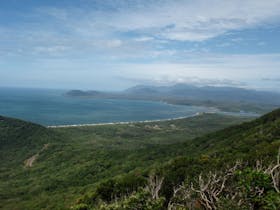 Rising 431 metres above the surrounding landscape, rugged Mount Cook is the scenic backdrop to Cooktown.
Lieutenant Phillip Parker King named Mount Cook in June 1819 during his navigation of northern Australia. Little did King know that Lieutenant James Cook had already named the mountain Gores Mount after Lieutenant John Gore, his third Lieutenant. The name Mount Cook took hold and, sadly for John Gore, the title Gores Mount was forgotten.
A three kilometre climb to the summit will reward you with amazing views over the town, Annan River, Endeavour Valley, picturesque coastline and amazing Great Barrier Reef, make the three kilometre climb to the summit.
Image credits: Matt Wallace ? Queensland Government
Ida Street
Cooktown, QLD, 4895
Located 2.9K from Cooktown
Little Annan Gorge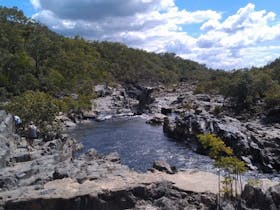 Little Annan Gorge is a gorge and swimming hole on the Anna River near Cooktown. It is safe to swim at the top of the gorge as there is no way crocodiles can get up the waterfall.
Little Annan Gorge can be found on the Mulligan Highway at Rossville in Queensland.
Mulligan Highway
Rossville, QLD, 4895
Located 21.3K from Cooktown
Black Mountain (Kalkajaka) National Park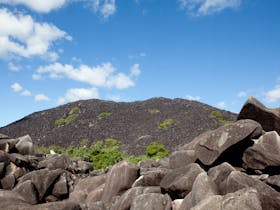 Black Mountain, an imposing mountain range of massive granite boulders, is home to unique wildlife and rich in Aboriginal culture.
The brooding Black Mountain resembles a pile of huge black granite boulders, some the size of houses, stacked seemingly precariously upon one another. Stop at the Black Mountain lookout on the Mulligan Highway on the eastern side of the crest of the Black Mountain boulder field. Learn about the geology, natural environment, culture and history of the area from signs at the lookout. There is no other access to the park. Do not risk injury by venturing onto the boulder field. People have been injured and have died trying to climb Black Mountain.
The wet tropics and drier savanna woodland regions meet in Black Mountain National Park, at the northern end of the Wet Tropics World Heritage Area, and an unusual range of wildlife finds refuge here, including species that are found nowhere else.
Known as Kalkajaka (meaning 'place of spear'), Black Mountain is an important meeting place for the Eastern Kuku Yalanji Aboriginal people and is the source of many Dreaming stories.
Mulligan Highway,
25 kilometres south of Cooktown
Rossville, QLD, 4871
Located 21.8K from Cooktown
Cooktown: Events
Cooktown Discovery Festival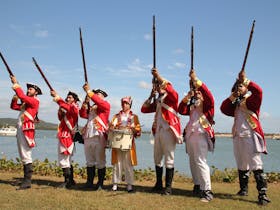 A fully costumed re-enactment of the landing of Captain James Cook and his first meeting with the Guugu Yimithirr people and celebrations all weekend throughout the town.
The 2019 Cooktown Discovery Festival will take place in beautiful and historic Cooktown. This is one of Far North Queensland's premier events with hundreds of visitors flocking to Cooktown every year to experience the unique culture of Cooktown and have a great time making history fun!
Event Dates
2019
      14th Jun
      14th Jun
      15th Jun
      15th Jun
      16th Jun
      16th Jun
Charlotte Street
Cooktown, QLD, 4895
Located 0.5K from Cooktown
Cooktown 2020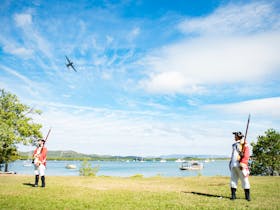 Cooktown 2020 is a 48-day festival commemorating the arrival of James Cook 250 years ago, the scientific discoveries that were recorded during his 48 days on shore and the interactions that occurred between the crew and the Guugu Yimithirr people. Including the first recorded act of reconciliation.
Event Dates
2020
      17th Jun
      18th Jun
      19th Jun
      20th Jun
      21st Jun
      22nd Jun
      23rd Jun
      24th Jun
      25th Jun
      26th Jun
      27th Jun
      28th Jun
      29th Jun
      30th Jun
      1st Jul
      2nd Jul
      3rd Jul
      4th Jul
      5th Jul
      6th Jul
      7th Jul
      8th Jul
      9th Jul
      10th Jul
      11th Jul
      12th Jul
      13th Jul
      14th Jul
      15th Jul
      16th Jul
      17th Jul
      18th Jul
      19th Jul
      20th Jul
      21st Jul
      22nd Jul
      23rd Jul
      24th Jul
      25th Jul
      26th Jul
      27th Jul
      28th Jul
      29th Jul
      30th Jul
      31st Jul
      1st Aug
      2nd Aug
      3rd Aug
      4th Aug
Cooktown, QLD, 4895
Located 1.0K from Cooktown
Cooktown Races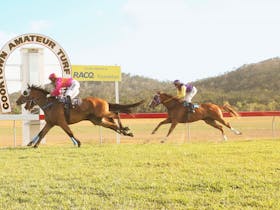 One of the most popular events on the social calendar in Cooktown.
Come and experience a real country race meet at the second oldest turf club in Queensland.
Features include horse racing, fashions on the field, book makers, bar and catering on site and live music.
Event Dates
2019
      9th Nov
Racecourse Road
Cooktown, QLD, 4895
Located 1.9K from Cooktown
Cooktown Map
Cooktown Map - Legend

Multiple Hotels

Hotel
Click on the map markers for more information. Hover over the map to zoom in & out or see satellite & terrain views.