Charleville Accommodation, Hotels, Tours & Information
Charleville
Immortalised in Slim Dusty's song by the same name, Charleville is the largest town in Queensland's south west and is a hub for visitors and pastoralists alike. In the heart of 'mulga country', Charleville and surrounding pastoral properties are rich in history, flora and fauna. Meander along the Charleville Heritage Trail to see some impressive examples of pioneer architecture and learn about the history of the town. The Save the Bilby Fund, at the National Parks Research Station, is worth a visit for an up close and personal experience with Australia's most famous endangered marsupial.

Speaking of up close and personal, the Cosmos Centre provides an intimate look at the night sky, and with the outback's low residual light, there's no better place to do so.

If you time your visit with the Charleville Campdraft, one of the region's largest, you'll be able to see skillful demonstrations of timeless bush horse skills as riders and their horses work together to guide cattle through a timed course. Charleville also holds a rodeo, where cowboys and girls conquer their fears to ride wild and powerful beasts.

Gazetted in 1868, Charleville was named after a town in Ireland where the government surveyor of the day once lived. Rail transport from Brisbane reached the town in 1888 and is still in use as a passenger line today.

Cobb and Co, the famous coach company, based their largest coach making factory in Australia in the township of Charleville in 1890. The factory was moved to Charleville because the wood used in coaches made in factories closer to the coast would split and crack in the dry, dusty conditions of Western Queensland. On the subject of transport, Qantas scheduled its first fare paying passenger service from Charleville to Cloncurry, via Longreach and Winton, back in 1922.

Charleville is home to south west Queensland's largest Royal Flying Doctor Service base that serves remote communities as far afield as Birdsville, 900 kilometres to the west.
Charleville: Where To Go / Sightseeing
Charleville Historic House Museum
There aren't too many buildings in Charleville that can boast a history as long and colour as the Charleville Historic House Museum. Dating back to 1887 the building was purpose built as Charleville's first national bank, before it went onto become a private boarding house until the 1970's when it was purchased by the Charleville and District Historical Society. It then became the museum it is today. Filled to the brim with treasures of yesteryear, some dating back as far as the 1800's, you'll be surprised at what you'll find and it's well worth your time to take a look.
Many of the original features of the bank still remain which include marble fireplaces and the vault. The display is completed with a large early day machinery display in the grounds including a life size replica Cobb and Co Coach, Rail Ambulance and Steam Engine.
87 Alfred Street
Charleville, QLD, 4470
Located 0.3K from Charleville
Charleville War Memorial
Charleville's war memorial echoes the taste of southern states - an ornately carved marble obelisk rather than the Queensland favourite, soldier statue.
Queensland Governor Sir Matthew Nathan unveiled the ?1000 square pillar monument, made from Italian marble, on 9 October 1924. Located in a park in Wills Street, it was erected by the people of Charleville and district and the sub-branch of the Returned Services League.
Australians were very proud of their army of volunteers, there was no conscription. Monuments like this one in Charleville provide a roll call of the 310 district heroes who signed up. The front panel bears the names of the 40 who died in WWI.
The Charleville memorial is very similar in design to one in Esk and is thought to have been designed by Ipswich architect George Brockwell Gill. It was produced by masonry firm R C Ziegler and Son of Toowoomba.
Names relating to later conflicts have been added to the memorial and two war trophies added to the park.
Four granite soldier statues, representing a Catafalque party, together with eight dividing granite bollards were added to the memorial for ANZAC Day, April 2010.
Edward Street
Charleville, QLD, 4470
Located 0.3K from Charleville
Charleville Yabby Races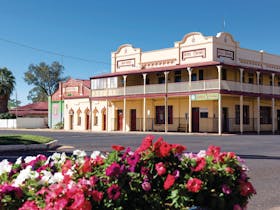 Who needs the Melbourne Cup? Every Wednesday the crowd goes wild at Bailey Bar Caravan Park for the Charleville Yabby Races. It's the one race meeting where holding your breath could be fatal (let's face it... yabbys are not sprinters!).
Come along and join in the fun and support this fundraiser of the Royal Flying Doctor Service and have a flutter on the Crawlers. Buy your own yabby (no training required). Place your bets, stand back and wait to see if your thoroughbred is a winner.
It's a little bit of silliness for a good cause, and your admission includes a hearty, good old fashioned, Camp Oven dinner.
196 King Street,
Bailey Bar Caravan Park
Charleville, QLD, 4470
Located 1.4K from Charleville
Charleville Graham Andrews Parklands
Whether it's a quick stopover, or a day out with family and friends, Graham Andrews Parklands is always a great place to stop, relax and stretch your legs.
This park with its peaceful surrounds, lake, barbecues, rustic native gardens, Outback Timber Walk, adventure playground and the fascinating Vortex Gun display, has something for everyone.
Stop to feed the locals, the ducks and geese, are never too far away to say "G'day" . . . duck
style !
Dusk and dawn are great times to take a quite moment to hear the bird song (or screech!) of the Australian native birdlife in the park. Birds often found in the park include: Galahs, Sulphur Crested Cockatoos, Red Rump Parrots and a whole variety of finches and small wrens (including the Willy Wagtail.)
A short leisurely stroll around the lake will allow you to identify and learn of 18 different species of Outback Trees. At the top end of the park learn of the desperate measures our early settlers took to break drought using the now infamous Steiger Vortex Rainmaking Guns.
Sturt Street
Charleville, QLD, 4470
Located 1.6K from Charleville
Cosmos Centre and Observatory
Wow, Ooh ahh and Brilliant, are the words you hear as visitors view the incredible beauty of the Milky Way Galaxy, through the powerful Meade telescopes.
Charleville's Cosmos Centre and Observatory is dedicated to ensuring visitors enjoy the wonder of the outback night sky. The guides at the Cosmos Centre share their knowledge and you will observe binary stars, star clusters, planets and the Moon.
The Cosmos Centre operates day and night experiences; both activities will build on your knowledge of astronomy and bring you up to date with discoveries.
Ask yourself have you ever:- Held a meteorite in your hand, Seen the rings of Saturn, Viewed star clusters 17,000 light years away, Seen the craters on the Moon, Wondered about dwarf planets or Seen the sun through a telescope?
At Astronomy by Day discover the truth about falling stars (they don't!), how the Solar System formed and all about their five new dwarf planets.
It's fun, it's interesting and well worth a trip to the dark open skies of Queensland's Outback.
During the day why not look at the only star in the sky the sun! Their special solar scope allows you to see the solar flares.
Milky Way
Charleville, QLD, 4470
Located 2.3K from Charleville
Charleville Royal Flying Doctor Service Visitor Centre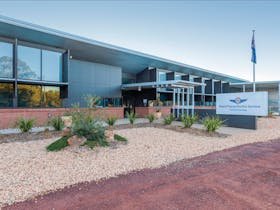 The Royal Flying Doctor Service Visitor Centre provides you with an incredible insight into this iconic outback service which is still being delivered to the people of the outback by the Flying Doctor.
Medical supplies and radio equipment have changed dramatically over the years and throughout it all the Flying Doctor always made it through. The long history of the medical service to remote outback communities is explained in an introductory film. Enjoy displays of past and present equipment and medical kits. Absorb information that will take you through the journey from the humble beginnings of the Royal Flying Doctor Service through to the present day operations of this vital service to outback communities.
John Flynn Way
Charleville, QLD, 4470
Located 2.6K from Charleville
Charleville: Events
Half Way There - Charleville Shindig
On your way to the Big Red Bash and need somewhere to overnight? Call in at Charleville and enjoy a street party with food stalls and a whole lot more. Be entertained by local artists and musicians.
Where are you half way to?
Half Way to Birdsville?
Half Way to Christmas holidays?
Half Way to your next stop?
Let them know where you are half way to?
Looking forward to a street party with everyone on their Half Way to party!
Event Dates
2018
      6th Jul
      6th Jul
Alfred Street
Charleville, QLD, 4470
Located 0.1K from Charleville
Charleville Show Races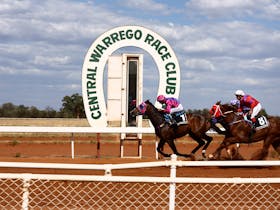 They're off and racing again in Charleville. Country horse races are always a lot of fun for everyone. The fashions, the thrill of backing the winner and the nonstop entertainment are all part of a Charleville Race Day.
Bookmakers, Sky Channel, Bar and Food on site.
Event Dates
2018
      19th May
Partridge Street
Charleville, QLD, 4470
Located 1.8K from Charleville
Charleville Show Rodeo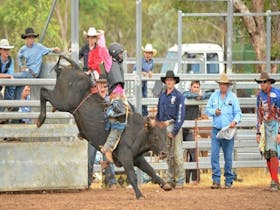 In true outback style get dust between your toes at Annual Charleville Show Rodeo. The action and excitement is non-stop and fast paced; just who can stay on for that elusive 8 seconds.
Event Dates
2018
      19th May
      19th May
Charleville Showgrounds
Charleville, QLD, 4470
Located 2.4K from Charleville
Charleville: Travel Tips
Charleville Visitor Information Centre
The Charleville Visitor Information Centre offers a one stop shop for travel information including maps, brochures and itineraries. Staffed by skilled and knowledgeable locals, the Charleville Visitor Information Centre can provide advice on the things to see, things to do, where to stay and where to eat. Discuss with the friendly staff your travel plans or make a booking.
Tours that can be booked at the Centre Include: Cosmos Centre and Observatory (various activities), Brolga's, Bustards and Beaut Birds Tour, Check Out Charleville Heritage, Flood and Fire Tour, Convoy World War II Secrets Tour, Bilby Experience, Bilbies, Stars and Secrets Taxi Tour and the Royal Doctor Hangar Tours.
With well over 20 things to see and do in Charleville, the Visitor Centre is a must visit when you arrive.
Milky Way
Charleville, QLD, 4470
Located 2.1K from Charleville
Charleville Map
Charleville Map - Legend

Multiple Hotels

Hotel
Click on the map markers for more information. Hover over the map to zoom in & out or see satellite & terrain views.