Flagstone Creek Accommodation, Hotels, Tours & Information
Flagstone Creek
Flagstone Creek, named after the rocky outcrop of sandstone in the creek bed. Flagstone creek is located between Grantham and Middle Ridge via Iredale.

Call in for a great coffee, cakes, Devonshire teas, gourmet burgers and lunch time grills at The Barn and Scotty's Garage. With wood fires in winter, cool trees in summer, The Barn is a truly unique venue for functions, wedding, parties and social gatherings.

The Barn is open: Friday from 10am to 2pm, Saturday and Sunday from 8am to 4pm and other times by appointment. Group bookings can be arranged for 20 or more people for dinner. Four years in the making, this museum of automotive memorabilia from the 50's and 60's showcases a lost era of vintage cars, motorbikes, jukeboxes and all things 'retro'. Just when you think you've seen it all Scotty slides back the rear door to reveal a replica 1950's diner with dance floor, pinball machines and more memorabilia, including an original dodgem car from Luna Park.

Up flagstone creek way in Lilydale, you'll find 9Dorf Farms, a 4th generation family-owned farm giving visitors a taste of life on a diversified working property. The Neuendorf family have been farming in the fertile Lockyer Valley since 1918 originally dairying and then moving on to lucerne/fodder and horticulture.

On the first Sunday of every month they provide a hands-on tour where you can feed the poddy calves in the nursery, collect eggs out in the paddock an even catch a fish the easy way when you tour the fish shed at feeding times ( a 30 tonne aquaculture re circulation system was built in 2011 on their Lilydale property growing Australian native fish- Barramundi, Murray Cod and Jade Perch). 9Dorf also farm ethically raised eggs and chicken in special travelling chicken caravans. Their farm gate is open 7 days a week for purchasing farm fresh fish, chicken and eggs however if travelling a distance to call first to ensure they have what you require.
Flagstone Creek: Where To Go / Sightseeing
Ma Ma Creek War Memorial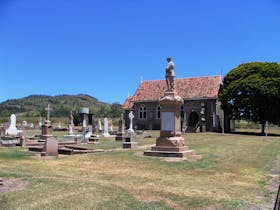 Fleurine Andrews' three sons died fighting in France in WWI. Their memory lives on in an unusual soldier statue in a small country cemetery, 13 kilometres south-west of Gatton.
Mrs Andrews commissioned monumental masons AL Petrie and Son to produce the memorial, erected in the St Stephen's Anglican Church cemetery at Ma Ma Creek in 1920.
The soldier statue, a popular choice of tribute in Queensland communities, embodies qualities of the ideal Australian: loyalty, youth, courage, innocence and masculinity. This one is a rarity, the only surviving 'Digger' wearing a cap instead of a slouch hat.
Private James Martin Andrews was killed on 5 August 1916, aged 26. Private George Henry Andrews died on 9 June 1917, aged 28. Private Bertie Reginald Andrews was killed on 10 June 1918, aged 20.
The war memorial stands behind the Andrews family plot and is the focus of public ANZAC Day memorial services.
Mrs Andrews also donated a church organ in her sons' memory.
Gatton Clifton Road
Ma Ma Creek, QLD, 4347
Located 10.0K from Flagstone Creek
Picnic Point Lookout and Parkland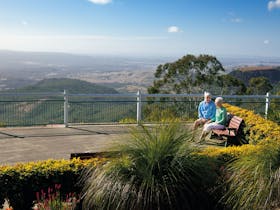 Don't miss sweeping panoramic views from Toowoomba's heritage-listed Picnic Point Lookout and Parkland - 160-acres perched high on the crest of the Great Dividing Range, overlooking Main Range and the Lockyer Valley. And if you've been before, visit again because no two days are the same!
An avenue of mature hoop pines (Auracaria cunnninghamii) and South Queensland kauris (Agathis robusta) leads to manicured lawns and spectacular escarpment views. Pre-pack a picnic or use the free barbecues and find a quiet patch of grass under a bunya tree, or stop by the cafe and restaurant and take in the views over a coffee or a delicious breakfast, lunch or dinner. It's the perfect spot for birdwatching, quiet contemplation or ticking off a bucket-list Toowoomba selfie.
The kids will love the playground and the weekend children's train. Stretch your legs on the well signed escarpment walking trails - from an easy stroll to the nearby waterfall, to the hour-long Firetail Trail circuit or the challenging Table Top Mountain climb - a beautiful sunrise adventure!
The lower section of the park can also be accessed via Tobruk Memorial Drive and is another ideal location for impressive vistas, picnics or a barbecue.
Tourist Drive
Toowoomba, QLD, 4350
Located 10.9K from Flagstone Creek
Toowoomba Water Bird Habitat
Looking for a place to walk and relax? Nestled in suburban Rangeville, Toowoomba Water Bird Habitat is a beautiful and diverse wetland spread over 7.6 hectares (19 acres). Environmental diversity attracts a variety of water birds. Deep and shallow lakes, areas of reeds, mud-banks, islands and grassy areas provide feeding, roosting and nesting conditions for birds including Ibis, Dusky Moorhens, Black Cormorants, Plumed Whistling Ducks and Purple Swamp Hens.
More than 2000 shrubs and trees attract Sulphur Crested Cockatoos, Lorikeets, Rosellas, Kookaburras and other native birds. All of the plants are Australian species appropriate to the locality. Perimeter plantings help screen the habitat from the surrounding roads and houses, creating a peaceful atmosphere within.
Water bird habitats are characteristically light, open spaces. Large areas of grassland have been retained - the perfect spot to see Maned Wood Duck and Straw-necked Ibis.
Mackenzie Street,
Corner of Alderley Street
Toowoomba, QLD, 4350
Located 12.1K from Flagstone Creek
Lake Annand Park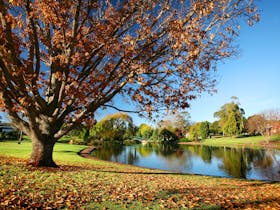 Set on two hectares, Lake Annand is a pleasant water attraction and well-used recreational space set along Toowoomba's East Creek.
A bikeway passes through the park and follows the route of East Creek right through to Queen's Park, close to the city centre.
Well maintained barbecue and playground facilities are another popular feature. Lake Annand Park is a popular location for picnics, get-togethers and small events.
You will also see a New Zealand influence in some of the plantings and park design. Where there's an attractive expanse of water, there will be ducks, and Lake Annand is no exception. A boardwalk at the lake edge, and a handsome curved bridge give youngsters (and the young-at-heart) hours of pleasure enjoying the antics of these handsome birds, which paddle towards anyone who might throw them some bread.
Long Street,
Cnr Mackenzie Street
South Toowoomba, QLD, 4350
Located 13.7K from Flagstone Creek
Flagstone Creek: Events
Ma Ma Creek Markets
Come down to the Ma Ma Creek Community Centre on the second Saturday of the month to visit the Ma Ma Creek markets and enjoy the variety that the stalls have to offer.
Event Dates
2020
      19th Jan
      20th Jan
      21st Jan
      22nd Jan
      23rd Jan
      24th Jan
      25th Jan
      26th Jan
      27th Jan
      28th Jan
      29th Jan
      30th Jan
      31st Jan
      1st Feb
      2nd Feb
      3rd Feb
      4th Feb
      5th Feb
      6th Feb
      7th Feb
      8th Feb
      8th Feb
      9th Feb
      10th Feb
      11th Feb
      12th Feb
      13th Feb
      14th Feb
      15th Feb
      16th Feb
      17th Feb
      18th Feb
      19th Feb
      20th Feb
      21st Feb
      22nd Feb
      23rd Feb
      24th Feb
      25th Feb
      26th Feb
      27th Feb
      28th Feb
      29th Feb
      1st Mar
      2nd Mar
      3rd Mar
      4th Mar
      5th Mar
      6th Mar
      7th Mar
      8th Mar
      9th Mar
      10th Mar
      11th Mar
      12th Mar
      13th Mar
      14th Mar
      14th Mar
      15th Mar
      16th Mar
      17th Mar
      18th Mar
      19th Mar
      20th Mar
      21st Mar
      22nd Mar
      23rd Mar
      24th Mar
      25th Mar
      26th Mar
      27th Mar
      28th Mar
      29th Mar
      30th Mar
      31st Mar
      1st Apr
      2nd Apr
      3rd Apr
      4th Apr
      5th Apr
      6th Apr
      7th Apr
      8th Apr
      9th Apr
      10th Apr
      11th Apr
      11th Apr
      12th Apr
      13th Apr
      14th Apr
      15th Apr
      16th Apr
      17th Apr
      18th Apr
      19th Apr
      20th Apr
      21st Apr
      22nd Apr
      23rd Apr
      24th Apr
      25th Apr
      26th Apr
      27th Apr
      28th Apr
      29th Apr
      30th Apr
      1st May
      2nd May
      3rd May
      4th May
      5th May
      6th May
      7th May
      8th May
      9th May
      9th May
      10th May
      11th May
      12th May
      13th May
      14th May
      15th May
      16th May
      17th May
      18th May
      19th May
      20th May
      21st May
      22nd May
      23rd May
      24th May
      25th May
      26th May
      27th May
      28th May
      29th May
      30th May
      31st May
      1st Jun
      2nd Jun
      3rd Jun
      4th Jun
      5th Jun
      6th Jun
      7th Jun
      8th Jun
      9th Jun
      10th Jun
      11th Jun
      12th Jun
      13th Jun
      13th Jun
      14th Jun
      15th Jun
      16th Jun
      17th Jun
      18th Jun
      19th Jun
      20th Jun
      21st Jun
      22nd Jun
      23rd Jun
      24th Jun
      25th Jun
      26th Jun
      27th Jun
      28th Jun
      29th Jun
      30th Jun
      1st Jul
      2nd Jul
      3rd Jul
      4th Jul
      5th Jul
      6th Jul
      7th Jul
      8th Jul
      9th Jul
      10th Jul
      11th Jul
      12th Jul
      13th Jul
      14th Jul
      15th Jul
      16th Jul
      17th Jul
      18th Jul
      19th Jul
      20th Jul
      21st Jul
      22nd Jul
      23rd Jul
      24th Jul
      25th Jul
      26th Jul
      27th Jul
      28th Jul
      29th Jul
      30th Jul
      31st Jul
      1st Aug
      2nd Aug
      3rd Aug
      4th Aug
      5th Aug
      6th Aug
      7th Aug
      8th Aug
      9th Aug
      10th Aug
      11th Aug
      12th Aug
      13th Aug
      14th Aug
      15th Aug
      16th Aug
      17th Aug
      18th Aug
      19th Aug
      20th Aug
      21st Aug
      22nd Aug
      23rd Aug
      24th Aug
      25th Aug
      26th Aug
      27th Aug
      28th Aug
      29th Aug
      30th Aug
      31st Aug
      1st Sep
      2nd Sep
      3rd Sep
      4th Sep
      5th Sep
      6th Sep
      7th Sep
      8th Sep
      9th Sep
      10th Sep
      11th Sep
      12th Sep
      13th Sep
      14th Sep
      15th Sep
      16th Sep
      17th Sep
      18th Sep
      19th Sep
      20th Sep
      21st Sep
      22nd Sep
      23rd Sep
      24th Sep
      25th Sep
      26th Sep
      27th Sep
      28th Sep
      29th Sep
      30th Sep
      1st Oct
      2nd Oct
      3rd Oct
      4th Oct
      5th Oct
      6th Oct
      7th Oct
      8th Oct
      9th Oct
      10th Oct
      14th Nov
Ma Ma Creek Community Centre
Ma Ma Creek, QLD, 4347
Located 10.0K from Flagstone Creek
Toowoomba Gemfest - Gems and Jewellery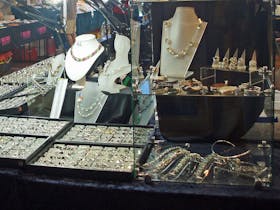 This is a great two-day community event for the whole family!
Selling a wide range of cut and uncut gemstones, jewellery, semi-precious gemstones, beads, pearls, fossils, opals, crystal and mineral specimens from all over the world. Carvings from precious and semi-precious stones are great for gifts, including Christmas presents. All items are for sale.
Gemstone testing/identification will again be available. This service, available to the public for a gold coin donation, is provided by a member of the Gemmological Association of Australia.
The kids will love the Fossicking for Children trailer.
Missing a gemstone in your jewellery? Bring it along and find a matching gemstone. Create your own unique piece of jewellery: purchase a setting and select your favourite gemstone. Have it set before you leave.
Raffle tickets for three fabulous jewellery prizes will be on sale; also hourly lucky door prizes.
Inside the hall, around 28 gem traders from Central Queensland in the north, to Sydney in the south put together this two-day spectacle. Around 30 traders will sell their merchandise outside the hall.
Catering provided by a local Toowoomba business.
Event Dates
2020
      17th Oct
      18th Oct
60 Ramsay Street
Centenary Heights, QLD, 4350
Located 12.9K from Flagstone Creek
Lost Trades Fair
Find inspiration, skill, craftsmanship, rare and forgotten trades, lost arts and traditions at the Lost Trades Fair.
Over 1,000 combined years of experience - all in one place. Meet the makers - see over one hundred makers practising their crafts and trades; wheelwrights, coopers, silversmiths, gunsmiths, makers of tools, rocking horses, penny farthings, woodworkers, musical instrument makers, stonemasons, plasterers, leatherworkers, chairmakers, whip plaiters, ceramicists, weavers, glassblowers, tinsmiths and clockmakers. The trades and the incredible artisans, workers and makers who continue to pursue these trades as a career will showcase their skills, craftsmanship and share their knowledge.
The Lost Trades Fair aims to inspire, to educate and to show why we should aim to have things made by a real person rather than a machine, to think about sustainability and the longevity of what they buy and use, to inspire people to have the confidence to design and create something real and beautifully crafted, to share skills and demonstrate what people can do with practice, passion and knowledge. The fair attracts artisans from across Australia and overseas.
Please visit the website for more information.
Event Dates
2020
      16th May
      16th May
      17th May
      17th May
Lindsay Street
East Toowoomba, QLD, 4350
Located 13.8K from Flagstone Creek
Blacksmithing Basics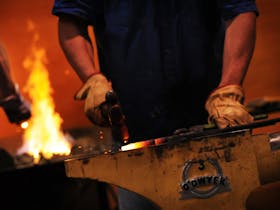 Learn the basics of blacksmithing and create your own set of blacksmithing tools with Terry Drennan.
You will make a set of blacksmithing tools including a cold chisel, hot cutter, round punch, oval punch, centre punch and tongs. As well as your tools, you will take away the basic skills of blacksmithing including operating a forge and using the tools and anvil.
Terry Drennan began training as a blacksmith and farrier in Melbourne when he was 21 years old. He has won the Australian champion in blacksmithing and farriery on many occasions. At the same time, Terry never lost the skills and enthusiasm for the other traditional facets of his trade such as making decorative gates and furniture. He has been teaching blacksmithing courses at Cobb+Co Museum for over 15 years.
Age: 16 years and over.
Requirements: Please wear closed in boots (or steel capped), long trousers and long sleeves.
Event Dates
2020
      19th Jan
      15th Feb
      16th Feb
      14th Mar
      15th Mar
      18th Apr
      19th Apr
      23rd May
      24th May
      13th Jun
      14th Jun
      18th Jul
      19th Jul
      15th Aug
      16th Aug
      26th Sep
      27th Sep
      17th Oct
      18th Oct
      14th Nov
      15th Nov
27 Lindsay Street
Toowoomba, QLD, 4350
Located 13.9K from Flagstone Creek
Rustic Furniture Workshop
Join Andrew MacDonald, Wood and Metal Artisan, for a weekend of creating rustic furniture from branches and sticks. This workshop will introduce you to suitable pest variety timbers for basic chair, stool and table making, the tools and techniques to work the materials, options for design of your own pieces, and you will make your own piece of furniture to take home!
Andrew MacDonald worked as a furniture maker before studying sculpture. His art practice combines the practical knowledge and skills of a tradesman with originality and creative design. He has exhibited his pieces in galleries throughout the world. Many of the tools Andrew uses are traditional ones, rarely seen in modern workshops, which he has even forged and made himself. Andrew's metal sculpture can be seen at various locations around Toowoomba and Brisbane.
Age: 16 years and over.
Requirements: Please wear closed in boots (or steel capped), long trousers and long sleeves.
Event Dates
2020
      8th Aug
      9th Aug
27 Lindsay Street
Toowoomba, QLD, 4350
Located 13.9K from Flagstone Creek
Flagstone Creek: Travel Tips
Toowoomba Visitor Information Centre
The team at Toowoomba Visitor Information Centre welcome you as a valued guest; with true country hospitality and a passionate desire to help you enjoy your visit. With a wealth of local knowledge, they can give you first-hand tips for exploring the Toowoomba area; with its intriguing history, quiet natural beauty, four distinct seasons, and delicious produce.
Their beautiful "Queenslander" building is based on a late 1800s style Toowoomba house. It features stained-glass motifs of the "Toowoomba" violet; which you can best enjoy by going inside.
Drop in for maps, brochures, locally-produced food and artisan-made items, Toowoomba souvenirs and refreshments. On-site parking is provided for cars, coaches and caravans; adjacent to picnic and playground facilities in East Creek Park.

82-86 James Street,
Warrego Highway
Rangeville, QLD, 4350
Located 13.2K from Flagstone Creek
Flagstone Creek Map
Flagstone Creek Map - Legend

Multiple Hotels

Hotel
Click on the map markers for more information. Hover over the map to zoom in & out or see satellite & terrain views.