Lilydale Accommodation, Hotels, Tours & Information
Lilydale
We do not currently have any general information about Lilydale. To find out more about the area try the following locations:

Lilydale: Where To Go / Sightseeing
Ma Ma Creek War Memorial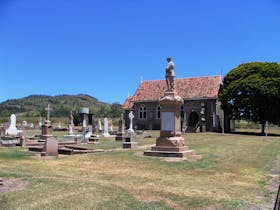 Fleurine Andrews' three sons died fighting in France in WWI. Their memory lives on in an unusual soldier statue in a small country cemetery, 13 kilometres south-west of Gatton.
Mrs Andrews commissioned monumental masons AL Petrie and Son to produce the memorial, erected in the St Stephen's Anglican Church cemetery at Ma Ma Creek in 1920.
The soldier statue, a popular choice of tribute in Queensland communities, embodies qualities of the ideal Australian: loyalty, youth, courage, innocence and masculinity. This one is a rarity, the only surviving 'Digger' wearing a cap instead of a slouch hat.
Private James Martin Andrews was killed on 5 August 1916, aged 26. Private George Henry Andrews died on 9 June 1917, aged 28. Private Bertie Reginald Andrews was killed on 10 June 1918, aged 20.
The war memorial stands behind the Andrews family plot and is the focus of public ANZAC Day memorial services.
Mrs Andrews also donated a church organ in her sons' memory.
Gatton Clifton Road
Ma Ma Creek, QLD, 4347
Located 6.4K from Lilydale
Lake Apex Park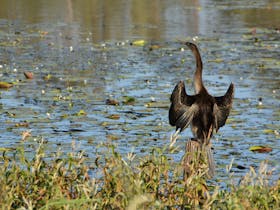 A beautiful waterfront park which is home to over 150 different species of birds. Inclusive of playground equipment, barbecues, exercise equipment and toilet facilities. Lake Apex Park is also dog friendly and has a paved walking track the entire distance around the Lake. A perfect location for your next picnic.
34 Lake Apex Drive
Gatton, QLD, 4343
Located 13.9K from Lilydale
Queensland Transport Museum located in the Lockyer Valley
The Queensland Transport Museum features a magnificent display of different modes of transport through the ages and displays over 200 models that explore the creation, founders and operation of the Transport Industry.
The main feature in the museum is the History of Western Maranoa Transport, which is a tribute to JC (Cyril) Anderson, his brother MJR (Curly) Anderson and also the men and women who worked for this renowned company.
Displays in the museum are ever changing and each new visit takes you on a new adventure.

34 Lake Apex Drive
Gatton, QLD, 4343
Located 13.9K from Lilydale
Picnic Point Lookout and Parkland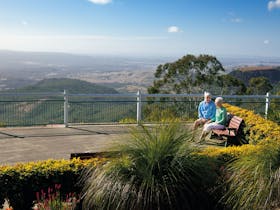 Don't miss sweeping panoramic views from Toowoomba's heritage-listed Picnic Point Lookout and Parkland - 160-acres perched high on the crest of the Great Dividing Range, overlooking Main Range and the Lockyer Valley. And if you've been before, visit again because no two days are the same!
An avenue of mature hoop pines (Auracaria cunnninghamii) and South Queensland kauris (Agathis robusta) leads to manicured lawns and spectacular escarpment views. Pre-pack a picnic or use the free barbecues and find a quiet patch of grass under a bunya tree, or stop by the cafe and restaurant and take in the views over a coffee or a delicious breakfast, lunch or dinner. It's the perfect spot for birdwatching, quiet contemplation or ticking off a bucket-list Toowoomba selfie.
The kids will love the playground and the weekend children's train. Stretch your legs on the well signed escarpment walking trails - from an easy stroll to the nearby waterfall, to the hour-long Firetail Trail circuit or the challenging Table Top Mountain climb - a beautiful sunrise adventure!
The lower section of the park can also be accessed via Tobruk Memorial Drive and is another ideal location for impressive vistas, picnics or a barbecue.
Tourist Drive
Toowoomba, QLD, 4350
Located 14.8K from Lilydale
Weeping Mother Memorial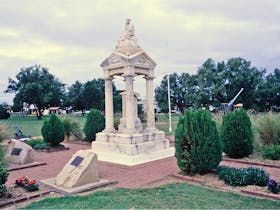 Many tears were shed on home soil as blood seeped in WWI trenches, Queensland's outpouring of grief most poignantly captured in a marble statue of a seated mother, weeping, at Gatton.
While the foundation stone was laid in April 1922, it's not known when the marble memorial, which includes a mausoleum-type structure, was unveiled. It is known that it was designed and produced by Ipswich mason Frank Williams at a cost of more than ?500 and that money was raised through public subscription.
The weeping mother, slightly smaller than life-size, sits on a mound of rocks, her chin resting on her right hand, her left hand holding a scroll with the inscription 'Their names liveth for evermore'.
Gatton's farming community lost 68 local men in WWI. The names of locals who died in subsequent conflicts, 23 in WWII and two in Vietnam, have been added.
A light to illuminate the statue at night was added by the Gatton RSL and Women's Auxiliary, a WWI nurse flicking the switch on Armistice Day 1933.
Hickey Street
Gatton, QLD, 4343
Located 15.1K from Lilydale
Toowoomba Water Bird Habitat
Looking for a place to walk and relax? Nestled in suburban Rangeville, Toowoomba Water Bird Habitat is a beautiful and diverse wetland spread over 7.6 hectares (19 acres). Environmental diversity attracts a variety of water birds. Deep and shallow lakes, areas of reeds, mud-banks, islands and grassy areas provide feeding, roosting and nesting conditions for birds including Ibis, Dusky Moorhens, Black Cormorants, Plumed Whistling Ducks and Purple Swamp Hens.
More than 2000 shrubs and trees attract Sulphur Crested Cockatoos, Lorikeets, Rosellas, Kookaburras and other native birds. All of the plants are Australian species appropriate to the locality. Perimeter plantings help screen the habitat from the surrounding roads and houses, creating a peaceful atmosphere within.
Water bird habitats are characteristically light, open spaces. Large areas of grassland have been retained - the perfect spot to see Maned Wood Duck and Straw-necked Ibis.
Mackenzie Street,
Corner of Alderley Street
Toowoomba, QLD, 4350
Located 16.2K from Lilydale
Lilydale: Events
Ma Ma Creek Markets
Come down to the Ma Ma Creek Community Centre on the second Saturday of the month to visit the Ma Ma Creek markets and enjoy the variety that the stalls have to offer.
Event Dates
2020
      22nd Jan
      23rd Jan
      24th Jan
      25th Jan
      26th Jan
      27th Jan
      28th Jan
      29th Jan
      30th Jan
      31st Jan
      1st Feb
      2nd Feb
      3rd Feb
      4th Feb
      5th Feb
      6th Feb
      7th Feb
      8th Feb
      8th Feb
      9th Feb
      10th Feb
      11th Feb
      12th Feb
      13th Feb
      14th Feb
      15th Feb
      16th Feb
      17th Feb
      18th Feb
      19th Feb
      20th Feb
      21st Feb
      22nd Feb
      23rd Feb
      24th Feb
      25th Feb
      26th Feb
      27th Feb
      28th Feb
      29th Feb
      1st Mar
      2nd Mar
      3rd Mar
      4th Mar
      5th Mar
      6th Mar
      7th Mar
      8th Mar
      9th Mar
      10th Mar
      11th Mar
      12th Mar
      13th Mar
      14th Mar
      14th Mar
      15th Mar
      16th Mar
      17th Mar
      18th Mar
      19th Mar
      20th Mar
      21st Mar
      22nd Mar
      23rd Mar
      24th Mar
      25th Mar
      26th Mar
      27th Mar
      28th Mar
      29th Mar
      30th Mar
      31st Mar
      1st Apr
      2nd Apr
      3rd Apr
      4th Apr
      5th Apr
      6th Apr
      7th Apr
      8th Apr
      9th Apr
      10th Apr
      11th Apr
      11th Apr
      12th Apr
      13th Apr
      14th Apr
      15th Apr
      16th Apr
      17th Apr
      18th Apr
      19th Apr
      20th Apr
      21st Apr
      22nd Apr
      23rd Apr
      24th Apr
      25th Apr
      26th Apr
      27th Apr
      28th Apr
      29th Apr
      30th Apr
      1st May
      2nd May
      3rd May
      4th May
      5th May
      6th May
      7th May
      8th May
      9th May
      9th May
      10th May
      11th May
      12th May
      13th May
      14th May
      15th May
      16th May
      17th May
      18th May
      19th May
      20th May
      21st May
      22nd May
      23rd May
      24th May
      25th May
      26th May
      27th May
      28th May
      29th May
      30th May
      31st May
      1st Jun
      2nd Jun
      3rd Jun
      4th Jun
      5th Jun
      6th Jun
      7th Jun
      8th Jun
      9th Jun
      10th Jun
      11th Jun
      12th Jun
      13th Jun
      13th Jun
      14th Jun
      15th Jun
      16th Jun
      17th Jun
      18th Jun
      19th Jun
      20th Jun
      21st Jun
      22nd Jun
      23rd Jun
      24th Jun
      25th Jun
      26th Jun
      27th Jun
      28th Jun
      29th Jun
      30th Jun
      1st Jul
      2nd Jul
      3rd Jul
      4th Jul
      5th Jul
      6th Jul
      7th Jul
      8th Jul
      9th Jul
      10th Jul
      11th Jul
      12th Jul
      13th Jul
      14th Jul
      15th Jul
      16th Jul
      17th Jul
      18th Jul
      19th Jul
      20th Jul
      21st Jul
      22nd Jul
      23rd Jul
      24th Jul
      25th Jul
      26th Jul
      27th Jul
      28th Jul
      29th Jul
      30th Jul
      31st Jul
      1st Aug
      2nd Aug
      3rd Aug
      4th Aug
      5th Aug
      6th Aug
      7th Aug
      8th Aug
      9th Aug
      10th Aug
      11th Aug
      12th Aug
      13th Aug
      14th Aug
      15th Aug
      16th Aug
      17th Aug
      18th Aug
      19th Aug
      20th Aug
      21st Aug
      22nd Aug
      23rd Aug
      24th Aug
      25th Aug
      26th Aug
      27th Aug
      28th Aug
      29th Aug
      30th Aug
      31st Aug
      1st Sep
      2nd Sep
      3rd Sep
      4th Sep
      5th Sep
      6th Sep
      7th Sep
      8th Sep
      9th Sep
      10th Sep
      11th Sep
      12th Sep
      13th Sep
      14th Sep
      15th Sep
      16th Sep
      17th Sep
      18th Sep
      19th Sep
      20th Sep
      21st Sep
      22nd Sep
      23rd Sep
      24th Sep
      25th Sep
      26th Sep
      27th Sep
      28th Sep
      29th Sep
      30th Sep
      1st Oct
      2nd Oct
      3rd Oct
      4th Oct
      5th Oct
      6th Oct
      7th Oct
      8th Oct
      9th Oct
      10th Oct
      14th Nov
Ma Ma Creek Community Centre
Ma Ma Creek, QLD, 4347
Located 6.3K from Lilydale
Australia Day Awards and Citizenship Ceremony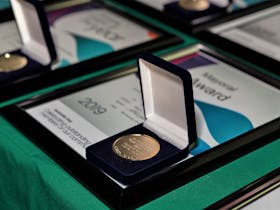 Join the celebration as the community recognises those who make the Lockyer Valley a great place to live. Many people volunteer their time, achieve great goals in sport, represent the region all over Australia, deliver great events and so much more, this is your chance to come all and say "Well done"!
They will also be welcoming new citizens at the ceremony - so please come along and show them just how friendly the community is.
The doors open at 8.30am and the ceremony commences at 9am sharp. There will be a sausage sizzle after the ceremony.
Event Dates
2020
      26th Jan
      26th Jan
52 North Street
Gatton, QLD, 4343
Located 14.9K from Lilydale
Gatton World Cup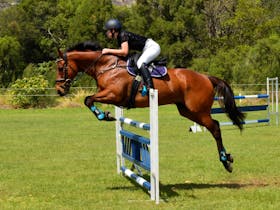 Jumping Queensland in partnership with Equestrian Queensland are proud to be hosting the 2020 Gatton World Cup Showjumping Championships. This premium equestrian event will take place at Gatton Showgrounds from 30 July to 2 August.
This event will attract the elite of showjumping from all over Australia. In addition, this event will also provide a platform for Children, Junior, Young Rider and Amateur showjumping competitors to showcase their talent.
Their event has been a finalist in the Equestrian Queensland event of the year for the past three years and they have been well supported by competitors from all over Australia. They are continuously trying to improve our program and facilities to make the event better than ever in 2020.
The event concludes with the World Cup Qualifier held on Sunday at approximately midday and will take about two hours. (Showcasing the best rider and horse combinations in Australia).
Trade stalls and food vans will be on the grounds through out the event and all are welcome.
Free parking and entry over the four days.
Event Dates
2020
      30th Jul
      31st Jul
      1st Aug
      2nd Aug
5 Woodlands Road
Gatton, QLD, 4343
Located 15.5K from Lilydale
Lilydale: Travel Tips
Lake Apex Visitor Information Centre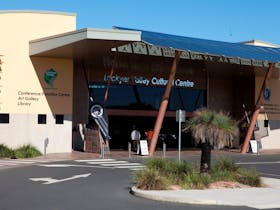 The Lake Apex Visitor Information Centre is located on Lake Apex Drive Gatton. The centre is situated within the Lockyer Valley Cultural Centre, surrounded by a beautiful park and overlooks Lakes Apex and Freeman.
This accredited visitor information centre offers a one stop shop for travel information including maps, brochures, and itineraries and is staffed by skilled and knowledgeable locals. Situated in the multi functional Lockyer Valley Cultural Centre the building boasts an Art Gallery, Library, Staging Post Cafe, Queensland Transport Museum as well as a state of the art Visitor Information Centre. Adjacent to the Information Centre lies the glorious Lake Apex where you can enjoy a picnic or barbecue and hang out with the wildlife.
The Lake Apex Visitor Information Centre offers a relaxing atmosphere with the opportunity to purchase locally grown and produced food products. Discuss your travel plans with the friendly staff to ensure a perfect day in the Lockyer Valley.
34 Lake Apex Drive
Gatton, QLD, 4343
Located 13.8K from Lilydale
Lilydale Map
Lilydale Map - Legend

Multiple Hotels

Hotel
Click on the map markers for more information. Hover over the map to zoom in & out or see satellite & terrain views.