Two Wells Accommodation, Hotels, Tours & Information
Two Wells
Two Wells, historic town gateway to the Adelaide Plains, southern gateway to Clare Valley and Yorke Peninsula, named after two Aboriginal wells on the western edge of a limestone knoll found by the early teamsters and shepherds who first came to the area. Later they were deepened to form a supply of water for all who drove stock through to the copper mines as well as the stock on lease that ran from the Gawler River to the Hummocks. When farmers took up the land around 1854, those near the knoll used the wells as their water supply and finally the walls of one were bricked up and the other walled with stone. Windlass and buckets were added and used until water was piped to the area at the turn of the century and the wells were filled in and forgotten. The historical wells were rediscovered in 1967.
Two Wells: Where To Go / Sightseeing
Tramway Museum - St Kilda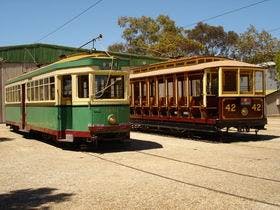 The Tramway Museum St Kilda has operational examples of each type of tram previously used on the Adelaide system and where possible, the line has been built using fixtures actually used in Adelaide. There are also static examples of each type of trolley bus used in Adelaide and gallery of photographs, maps and historical information.
Electric vehicles provided the main public transport in Adelaide in the five decades from 1909 to 1959 and 93 million passengers were carried in 1945 alone. When plans to replace Adelaide's electric transport system matured in 1957, the museum was established to preserve some of the vehicles, which had served the city for so many years.
The museum is owned and operated by the Australian Electric Transport Museum South Australia, a non-profit voluntary association having full accreditation with the History Trust of South Australia. It preserves the electric public transport history of Adelaide.
St Kilda Road
St Kilda, SA, 5110
Located 15.8K from Two Wells
Winaityinaityi Pangkara National Park Bird Sanctuary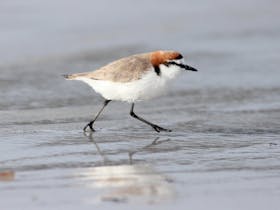 Bring your binoculars and your bird book. Birds come from all over the world to visit this coastal park. They rest and feed after their long flight from as far as Siberia and Alaska, passing through 22 countries.
The park is 30 minutes from Adelaide. Entry is from the St Kilda foreshore or at the northern end from Thompson beach.
The name Winaityinaityi Pangkara in the local Kaurna language means "a country for all birds and the country that surrounds these birds".
The park is at the southern end of the East Asian-Australasian Flyway (EAAF) which is used by more than 5 million birds every year. 27,000 of these birds stop and rest in the Adelaide International Bird Sanctuary. Some birds live here all year round.
There are 263 unique plant and animal species, adapted to living in the coastal conditions. Food is abundant on the tidal mud flats. The birds feed on insects, worms and small shellfish which live in the mud. It's also a fish breeding ground.
There are threatened bird species such as the Curlew sandpiper, Ruddy Turnstone, Red Knot and Eastern Curlew. You can also see the mangrove trees which live in salt waters.
St Kilda Rd
St Kilda, SA, 5110
Located 16.1K from Two Wells
National Military Vehicle Museum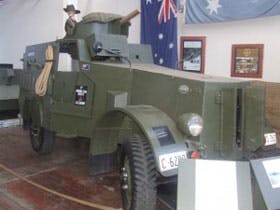 Welcome to the National Military Vehicle Museum, which is operated on a volunteer basis by members of the Military Vehicle Preservation Society of South Australia. The Society is one of many Military Vehicle Clubs across Australia and throughout the world and its members are dedicated to the preservation of vehicles that are of military origin.
The museum was developed as a way of providing undercover storage for the vehicles and at the same time allowing the public to view them.
The majority of the vehicles are privately owned by the Society members and therefore each member is responsible for their own vehicles. In addition the vehicles are not just restored to look at, they are rebuilt to authentic running condition and most are road registered and driven regularly.
You will see military vehicles and items ranging from the First World War to current times.
Sturton Road
Edinburgh, SA, 5111
Located 18.0K from Two Wells
Penfield Park Miniature Railway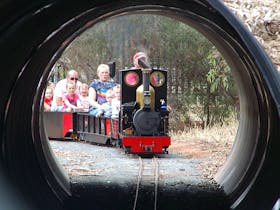 Penfield Park Model Railway features 120 metres of a HO HOn3 model railway track (on a six by four cubic metres layout), a large 45mm "G" scale out door garden railway and radio controlled quarter scale speedway race cars that career around the racetrack.
The Penfield Model Engineers Society was formed by a group of enthusiastic live steam model makers in 1969. Public open days are held on the last Sunday of each month except December (12 Noon to 4:30 P.M.) and the second Saturday from October to March (6:00 P.M. until 9:30 P.M.).
Miniature steam/diesel hauled train rides and radio controlled racing car displays will ensure you have an enjoyable family afternoon/evening.
Fully covered footwear must be worn whilst riding on trains.
Please check website for opening days and times. Note: if the forecast temperature for Adelaide is 36 degrees or hotter, then the Open Day will be cancelled.
6-30 Woomera Avenue
Edinburgh, SA, 5111
Located 20.4K from Two Wells
Gawler Historic Main Street Walking Tour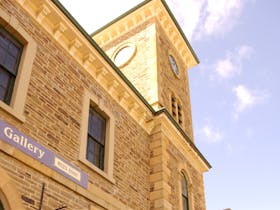 Take a self-guided walking tour along Gawler's historic Main Street and learn the fascinating history of the area.
Gawler's Historic Main Street reflects colonel William Lights vision; to create a settlement that could prosper on the banks of the north and south Para Rivers, bounded by rolling hills and within close proximity to Adelaide. Today you can witness the remarkable eras from the historical buildings that line Gawler's Main Street.
The attractive setting, coupled with major roles in the mining and agricultural booms of the 1860s, 70s and 80s saw Gawler blossom into a town of broad streets, peaceful parklands and distinctive architecture. As the walk unfolds you will gain an appreciation of the achievements that our ancestors accomplished in times of challenging environmental and social harshness.
Maps and information for the self-guided tour can be collected from the Gawler Visitor Information Centre between 9am and 5pm Monday to Friday, or 10am to 4pm weekends.
2 Lyndoch Road
Gawler East, SA, 5118
Located 21.4K from Two Wells
Church Hill State Heritage Walking Tour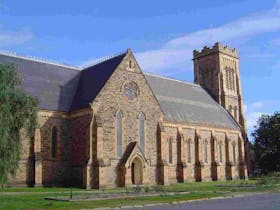 The Church Hill area contains the core of Colonel Light's 1839 Gawler town plan. Due to its historical significance and the overall state of preservation, this area was declared a State Heritage Area on 7 June 1985, the third such heritage area in South Australia.
As you experience the true heritage of Gawler, the attractions will be highlighted unfolding you why the area is called Church Hill. A wide array of dwellings and outbuildings reflect grand to humble circumstances of people who created the area during the 19th century. Original slate and bluestone kerbs, historic fire hydrants and many other treasurer of yesteryear will be revealed.
Collect a brochure from the Gawler Visitor Information Centre. Approximately 2.4kms and 90 minutes.
2 Lyndoch Road
Gawler East, SA, 5118
Located 21.4K from Two Wells
Gawler Self Driving Tour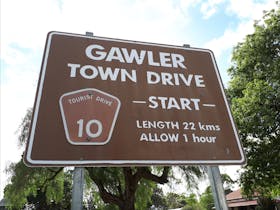 Gawler is unique in character, a destination moulded from being the first country town in South Australia into its present form, gifted with a natural river corridor and significant built environments. The Gawler Self Drive Tour will take you on a journey where you will appreciate the degree that Gawler contributed towards the development of our state, marvel at its merging of old with new and be envious of our town lifestyle offerings.
Follow route "10 signs departing from the Gawler Visitor Information Centre Car Park, 2 Lyndoch Road, Gawler . Pick up a brochure from the Centre to enhance the drive.
2 Lyndoch Road
Gawler East, SA, 5118
Located 21.4K from Two Wells
Garden Island Ships' Graveyard Maritime Heritage Trail
The abandoned wrecks along the Garden Island Ships' Graveyard Maritime Heritage Trail represent a unique collection of vessels which worked South Australian waters during an era when the maritime industry dominated transport, trade and employment.
From 1909 to 1945 the North Arm of the Port Adelaide River became the final destination for many vessels which had outlived their usefulness - casualties of technological change, of the Great Depression and two world wars, or simply of disrepair and accidental damage. Instead of scuttling these obsolete vessels in deep water, the South Australian Harbours Board decided that an easier and cheaper option was to beach and further dismantles the stripped hulks at Garden Island.
The trail offers canoeists and small boat enthusiasts a chance to cruise the shallow waters around Garden Island and discover the final resting place of 25 wrecks - a varied group of dredges, barges, pontoons and ferries as well as sailing ships and steamers. Many ended their working lives in the Port as store ships and tenders. One even became a footbridge and another a floating grain mill.
More information is available online in the Garden Island Ships' Graveyard Maritime Heritage Trail and Port Adelaide Ships graveyard brochures.
North Arm of the Port River
Port Adelaide, SA, 5015
Located 23.8K from Two Wells
Marra Dreaming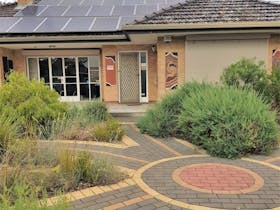 Marra Dreaming is an Aboriginal community centre located about 20km north of the Adelaide CBD.
Marra Dreaming offers a range of workshops for cultural awareness, education and enjoyment.
We produce and sell a wide range of authentic contemporary Aboriginal craft and artwork which is on display in our showroom on site. Items range from paintings, jewellery, silk scarves and ties, ceramic vases and plates, traditional woven baskets and mats and assorted handicrafts.
Feel free to stop by anytime for a coffee and a chat with any of our friendly staff and volunteers or check out our website at www.marradreaming.com.au
22 Commercial Road
Salisbury, SA, 5108
Located 24.7K from Two Wells
Two Wells: Travel Tips
Gawler Visitor Information Centre
The Gawler Visitor Information Centre is your first stop for information on things to see and do to ensure you enjoy your time in Gawler and the region to the fullest.
Our friendly staff and volunteers have expert knowledge to make your stay a memorable one, providing quality information and bookings for accommodation, attractions and activities in the region and South Australia.
Stunning walking and driving tours include:
Church Hill State Heritage Walking Tour.
Gawler Historic Main Street Walking Tour.
Gawler Driving Tour.
Gawler River Paths - Tapa Pairara.
To assist further travels, coach bookings can be made with Premier Stateliner, Yorke Peninsula Coaches and Greyhound Australia. A freight service is also available to all areas of South Australia.
If you are chasing a souvenir or gift, the Centre stocks a wide range to please all tastes, so be sure to stop in and see us.
2 Lyndoch Road
Gawler East, SA, 5118
Located 21.4K from Two Wells
Two Wells Map
Two Wells Map - Legend

Multiple Hotels

Hotel
Click on the map markers for more information. Hover over the map to zoom in & out or see satellite & terrain views.