Cape Jervis Accommodation, Hotels, Tours & Information
Cape Jervis
Cape Jervis is the jumping off point for daily car and passenger ferry services to Kangaroo Island. It's a 45 minute journey that reveals the spectacular coastline of this part of the Fleurieu Peninsula. Cape Jervis is a popular base for fishermen, with good boat, jetty and beach fishing. Climb aboard a fishing charter or take a cruise along the coast. Bushwalkers can stretch their legs through nearby Deep Creek Conservation Park or start out on the four day Heysen Trail walk to Victor Harbor. Cape Jervis is on Tourist Route 52 and part of the Fleurieu Way Tourist Drive. You'll also find holiday unit and cabin accommodation there. See more of the Fleurieu Peninsula and a coastal playground famed for its laidback lifestyle, beach breaks for surfers of all levels of experience, and top fishing spots. It's a paradise for divers and snorkellers, with dramatic shipwrecks and stunning marine life, including the famed Leafy Seadragon. Enjoy some of the best produce and vineyards in Australia. The Fleurieu Peninsula is home to some prestigious winemaking regions, including McLaren Vale. The history of winemaking in this region goes all the way back to 1842, and it consistently produces some of the best drops you'll ever taste. There's also national parks, golf courses, top quality cuisine and more.
Cape Jervis
Cape Jervis: Where To Go / Sightseeing
Heysen Trail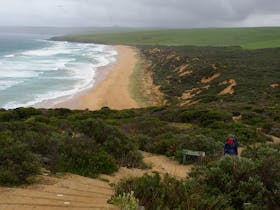 Experience the Heysen Trail; one of the world's great walking trails and the longest in Australia. The 1,200 kilometre Heysen Trail extends from Cape Jervis on the south coast of the Fleurieu Peninsula to Parachilna Gorge in the Flinders Ranges.
Named after the famous landscape artist Sir Hans Heysen, the trail boasts some of the state's most spectacular landscapes; passing through national parks, state forests, vineyards, orchards, acclaimed tourist destinations and historic towns that offer accommodation.
Join the trail at any point along its journey and enjoy a section as a series of half-day walks or complete the entire trail as a 60 day hiking adventure. Inexperienced hikers should stick to the sections of the trail closer to Adelaide and the south coast. Further out from Adelaide the trail becomes more challenging; the terrain is harder and more isolated.
Some of the most stunning sections of the Heysen Trail include:
Fleurieu Peninsula: Deep Creek Conservation Park, Tapanappa to Boat Harbor.
Adelaide Hills: Mylor to Mount Lofty.
Barossa Valley: Mount Crawford to Tanunda.
Flinders Ranges: Wilpena Pound to Parachilna Gorge.
Heysen Trail Northern guidebooks and maps are available from leading bushwalking and map shops, the RAA and park offices.
Cape Jervis to Parachilna Gorge
Cape Jervis, SA, 5204
Located 0.1K from Cape Jervis
Morgan Beach
Morgan Beach is an unpatrolled sandy beach, nestled below 50 metre high cliffs. There is a gravel road from Cape Jervis to the bluff that overlooks the beach and Starfish Hill Wind Farm to the north. Explore the rocky reef at the southern end of the beach and enjoy a swim in the clean waters up the beach.
Morgan Beach is easily accessible to the public and four wheel drive vehicles are permitted on the beach but please check tides and weather conditions. Dogs are allowed on the beach however there are restrictions during daylight saving.

Flinders Road
Cape Jervis, SA, 5204
Located 0.9K from Cape Jervis
Fishery Beach
Fishery Beach is located between Cape Jervis and Blowhole Beach. It is a popular fishing beach and was home to a whaling station in the 1840s/1850s. Some ruins remain today.
In 1862 Fishery Beach became a shipping port for the export of ore from the nearby Talisker Mine.
On clear days Kangaroo Island can be seen from Fishery Beach.
Fishery Beach Road
Cape Jervis, SA, 5204
Located 3.4K from Cape Jervis
Talisker Mine Ruins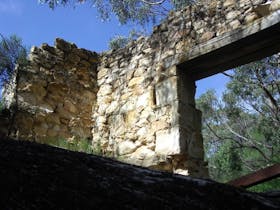 Talisker Mine was once the largest silver and lead mines in South Australia. The Talisker Mining Company began working July 1862. After the arrival of a shipload of Cornish Miners from Glenelg six distinct lodes were located. Within one month ore was dispatched to England for assaying and start made with opening up the mine and building the nearby township of Silverton.
The silver and lead was shipped from nearby Fishery Bay where it was carried to the lighters moored in chest deep water for ferrying to the large ships. 36,000 bags of ore weighing 1,600 tones and 890 tons of ingots were carried in this way.
The mine ruins illustrate typical mid nineteenth century Cornish mining and ore processing techniques and are an important remnant of South Australia's heritage. The mine is located within Talisker Conservation Park and is listed on the Register of State Heritage Items.
Today an interpretive trail through the mine ruins and bushland has been created. The walk takes about an hour. Maps can be purchased from the Yankalilla Bay Visitor Information Centre.
Section 420 plus Rarkang Road
Delamere, SA, 5204
Located 4.7K from Cape Jervis
Blowhole Beach
Blowhole Beach is a stunning ocean beach near the western edge of Deep Creek Conservation Park. You can walk 2km to the beach from the Cobbler Hill car-park. Or if you have a four wheel drive vehicle you can drive down the steep track to the Blowhole Beach car-park. You can sometimes see dolphins in the surf and kangaroos nearby.
The sandy beach is 200m long and is in a steep valley. A creek crosses the beach and rocky headlands reach out at either end of the beach. Swimming can be hazardous because there is usually a strong rip which can sweep swimmers out to sea.
You can also camp in the Park and stay at cottages in the park and nearby. There is no camping at the beach. Check the website for maps, details and booking.
Blowhole Creek Road
Cape Jervis, SA, 5204
Located 7.2K from Cape Jervis
Starfish Hill Windfarm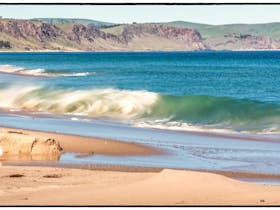 The Starfish Hill Wind Farm is located across two hills on the tip of the Fleurieu Peninsula near Cape Jervis. It was the first wind farm built in South Australia. The site was selected because the area has consistently high winds, is sparsely populated and was previously cleared for farming and grazing.
There are 23 wind turbines with 15 located on Salt Creek Hill and eight on Starfish Hill. Each of the turbines has three blades with a tower height of 68 metres and overall height of 100 metres from the ground to the blade tip.
The wind farm provides enough energy to meet the needs of about 18,000 households (around two per cent of the State's residential customers) and adds one per cent to the available generation capacity in South Australia.
Access to the wind farm is not permitted however there is a public observation area located close to the wind farm and is accessed via a gravel road off Main South Road. For further information contact the Yankalilla Bay Visitor Information Centre.
Yoho Road
Cape Jervis, SA, 5204
Located 7.5K from Cape Jervis
Delamere Art Wall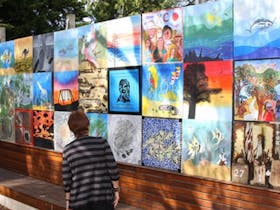 The picnic area by the general store at Delamere has been colourfully decorated by local artists, residents and students from Yankalilla Area School and Rapid Bay Area School. The artists worked on developing artistic panels that are now permanently on display as part of the Leafy Sea Dragon Festival (now Festival Fleurieu) which is well worth a stop to enjoy the artwork.
104 Main South Road
Delamere, SA, 5204
Located 9.1K from Cape Jervis
Rapid Bay Beach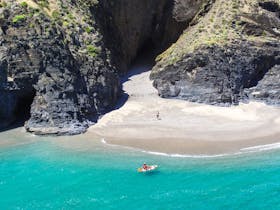 Nestled between long sandy beaches and towering cliffs, Rapid Bay is 105 kilometres south of Adelaide and reached by a steeply descending road from the main Normanville-Cape Jervis Road.
Rapid Bay is well known for its very long jetty. While the original jetty built in 1940 is closed to the public, a new jetty (opened in early 2009) is now available for use. Take a stroll along the jetty and enjoy fishing or the beautiful views.
At Rapid Bay, you'll also find an important South Australian landmark - a boulder on which Colonel Light carved his initials after he first stepped ashore. It's reported that he said "I have hardly seen a place I like better".
Rapid Bay was named after the brig HMS Rapid in which Colonel Light and his staff came to South Australia, discovering Rapid Bay in 1830 enroute to Glenelg.
Rapid Bay is usually calm and relatively safe, just watch the deep water right off both beaches. It's a paradise for divers and snorkelers, with dramatic shipwrecks and stunning marine life, including the famed Leafy Sea dragon.
It is an unpatrolled beach.
Finnis Drive
Rapid Bay, SA, 5204
Located 11.5K from Cape Jervis
Second Valley Lasseters Reef
Steep coastal cliffs, fascinating geological formations and a small sandy beach help to make Second Valley unforgettable.
There are multiple ways to to begin your dive, swim across the first bay, walk around the second bay and begin there or enter from the jetty.
Two small caves are easily found at the base of the cliff on the southern point of the second bay and around a little bit further are some easy swim-throughs.
About 20 metres off shore is a small bommie which is home to a good variety of fish including both Leafy and Weedy Sea Dragons.
Best dived in south easterly winds.
Second Valley Jetty
Second Valley, SA, 5204
Located 14.4K from Cape Jervis
Second Valley Beach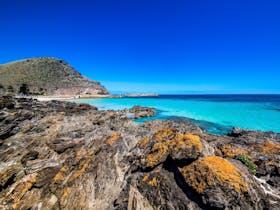 Second Valley Beach is one of South Australia's most instagramed locations. It offers stunning views of the coastline and unique geological formations. This beach is popular for swimming, jetty fishing, snorkelling and scuba diving.
Follow the open valley that narrows at the coast to a gap, through which flows the small Parananacooka Creek and the road to the beach. The small town and caravan park lies on the landward side of the gap. There is a small car park leading to a jetty with the two small beaches to either side.
The eastern beach is sandy and popular for swimming. To the west is a north facing curving long boulder beach attached by rock reefs to a small headland. Conditions are usually calm at this part of the beach; however it is dominated by rocks and reef.
Public toilet facilities are located in the car park. Second Valley Jetty Store is close by for takeaway and ice creams or book in historic Leonards Mill for a gourmet lunch.
Finnis Vale Drive
Second Valley, SA, 5204
Located 14.5K from Cape Jervis
Cape Jervis Map
Cape Jervis Map - Legend

Multiple Hotels

Hotel
Click on the map markers for more information. Hover over the map to zoom in & out or see satellite & terrain views.