Sellicks Beach Accommodation, Hotels, Tours & Information
Sellicks Beach
Beautiful Sellicks Beach offers steep cliffs that give way to a long expanse of white sand. Sellicks Beach is at the southern most point the City of Onkaparinga, is where the Mount Lofty Ranges meet the sea. This part of the South Australian coastline is renowned for its plentiful fishing and you'll find good boat launching facilities here. This is also a popular spot for surfers, particularly during the winter. Cars with beach passes are permitted on the beach below the Esplanade. You can contact the City of Onkaparinga for information on beach passes. The Victory Hotel restaurant and cellar door are here. Enjoy the view from the restaurant's enclosed verandah, which is heated during the colder months to provide a cosy hideaway. The Victory Hotel is famed for its quality, extensive wine list.
Sellicks Beach
Sellicks Beach: Where To Go / Sightseeing
Myponga Market
The Myponga Market is located on the edge of the Myponga Reservoir, a beautiful 45 minute drive south of Adelaide.
Enjoy magnificent views of the Myponga Reservoir.
Explore Art Deco Old Myponga Cheese Factory and the Cool Room Gallery for local artists or Wood Flair on Fleurieu where the artisan woodworkers display their creations. Ryk's records has a treasure trove of rare vinyl recordings. Other stalls have selections of bric-a-brac, local produce and a delightful cafe.
The Smiling Samoyed Brewery is at the rear and open until late if you want to party on.
46 Main South Road
Myponga, SA, 5202
Located 6.9K from Sellicks Beach
Adelaide's Underwater Heritage Trail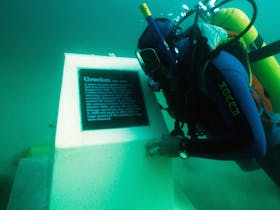 Adelaide's Underwater Heritage Trail explores four shipwrecks located in Gulf St Vincent - the Grecian, Zanoni, Star of Greece and Norma.
These wrecks represent a variety of vessels associated with trade and development in South Australia during the nineteenth and early twentieth century's and spans the period of British shipbuilding from 1841 to 1893.
The remains demonstrate the four major types of materials used in sailing vessel construction during that era - wood, composite (wood and iron), iron and steel.
This trail extends from the Star of Greece, off Port Willunga, to the Zanoni, about 15 kilometres south east of Ardrossan, and includes a brochure and four underwater plaques placed adjacent to each wreck.
Port Willunga, SA, 5173
Located 7.2K from Sellicks Beach
Port Willunga Beach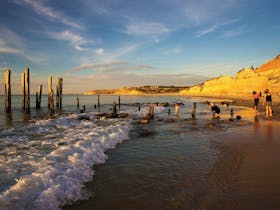 Port Willunga Beach is one Fleurieu Peninsula's most photographed beaches featuring the remains of the Port Willunga Jetty. Located approximately 35kms south of Adelaide, the beach is famous for its golden cliff faces, crystal clear waters and soft white sands - the type that squeaks between your toes. It is an ideal spot for those long beach walks on the wet sand, with only the sound of waves lapping at your feet.
Nestled on the edge of the cliff top is the Star of Greece restaurant, offering stunning views along the coast and named after a nearby shipwreck. Sections of the hull of the Star of Greece, which came to grief in 1888, remain on the ocean floor and make for a popular diving spot. At low tide parts of the wreck may still be visible from the shore.
Don't forget to also visit nearby Aldinga historic township, emerging as one of South Australia's best villages. From baked goods and cafes to clothing boutiques and local grocers, the strip has a great vibe. There is also great festivities including Fridays After Five (market throughout summer), concerts and small festivals.
Port Willunga, SA, 5173
Located 7.2K from Sellicks Beach
Myponga Beach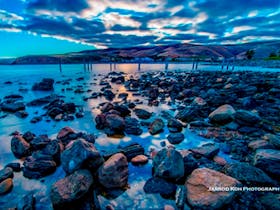 Myponga Beach occupies a small valley that has been carved by Myponga Creek and is now partially filled with river and marine sediments forming a flat plain occupied by a few houses and an elongated lagoon and wetland that flows across the southern end of the beach. Houses and shacks line the rear of the beach; so much so a seawall has been built to protect some of the properties. Fifty-metre high grassy bluffs border each end of the beach, with rocks and reefs extending seaward. It is moderately steep and fronted by a narrow continuous bar, with waves averaging about 0.5 metres.
The beach was used as a port and the ruins of the old jetty are still present. Swimming is relatively safe in the sandy central portion of the beach and it is a popular spot for both launching boats and for shore-based fishing off the adjacent rock reefs.
Myponga Beach Road
Myponga Beach, SA, 5202
Located 7.5K from Sellicks Beach
Myponga Reservoir Lookout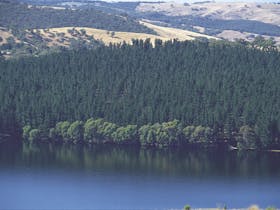 The Myponga Reservoir Lookout provides sweeping views of the reservoir and surrounding pine forest. Construction of the reservoir began in 1957 and it was completed in 1962. The concrete arch dam wall is 49 metres high and 226 long. The reservoir is 35 metres deep and holds 26,800 mega litres. When full the water spread covers 280 hectares.
The reservoir supplies water to the southern metropolitan area and the south coast. Unlike other reservoirs Myponga does not receive any water from the River Murray but instead operates from water collected in the natural catchment. Below the reservoir the Myponga River makes its way through the valleys flowing into Gulf St Vincent at Myponga Beach. The Myponga Reservoir Treatment Plant was built in 1993 and currently serves approximately 50,000 people across an area that extends from McLaren Vale to Victor Harbor.
Dogs permitted on a leash. Contact the Yankalilla Visitor Information Centre for more details.
Section 81 Resevoir Road
Myponga, SA, 5202
Located 8.3K from Sellicks Beach
Adelaide Biplanes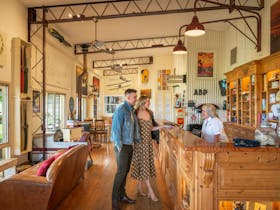 Based at the vintage and charming Aldinga Airfield, Adelaide Biplanes is all about delivering some of the most awesome flying experiences it is possible to imagine.
From the joy and sheer romance of a big, classic, open cockpit Waco biplane flight along the stunning McLaren Vale wine region's coastline, the rumble of the big radial engine.
To an extreme open cockpit Great Lakes biplane aerobatic trip aloft that offers a totally unique, adrenalin-pumping experience, that literally puts all of your senses on overload.
To the ultimate buzz of actually learning to fly at the most motivating, challengingly-fun, inspiringly easy going and singularly safe Flying School.
Relax and soak up the nostalgia of the 1940's biplanes and flight training, whilst enjoying a gourmet bacon and egg sandwich and coffee. Homemade cake and cookies straight from the Kitchen tempt you to linger on the decking.
At Adelaide Biplanes, we have a passion for pretty much everything there is to do with aeroplanes.
Simply put, that's what we are all about.
We look forward to welcoming you here soon. It really is ....
Awesome.
Please see website for all costs.
Colville Road
Willunga South, SA, 5172
Located 9.3K from Sellicks Beach
Sellicks Beach: Events
Smiling Samoyed Sunday Live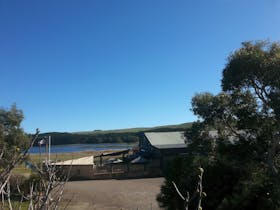 Sunday Session with live music at the brewery, from 1pm to 4pm.
Enjoy with a craft beer from our extensive range, a delicious wood oven pizza or local produce platter and fabulous views over the reservoir.
30th September - Dean Forever
7th October - Margie and The Russel Sisters
14th October - Blu Chai
21st - Phil and Wendy
28th - The Borrowed Ones
Event Dates
2019
      22nd Jan
      23rd Jan
      24th Jan
      25th Jan
      26th Jan
      27th Jan
      28th Jan
      29th Jan
      30th Jan
      31st Jan
      1st Feb
      2nd Feb
      3rd Feb
      4th Feb
      5th Feb
      6th Feb
      7th Feb
      8th Feb
      9th Feb
      10th Feb
      11th Feb
      12th Feb
      13th Feb
      14th Feb
      15th Feb
      16th Feb
      17th Feb
      18th Feb
      19th Feb
      20th Feb
      21st Feb
      22nd Feb
      23rd Feb
      24th Feb
      25th Feb
      26th Feb
      27th Feb
      28th Feb
      1st Mar
      2nd Mar
      3rd Mar
      4th Mar
      5th Mar
      6th Mar
      7th Mar
      8th Mar
      9th Mar
      10th Mar
      11th Mar
      12th Mar
      13th Mar
      14th Mar
      15th Mar
      16th Mar
      17th Mar
      18th Mar
      19th Mar
      20th Mar
      21st Mar
      22nd Mar
      23rd Mar
      24th Mar
      25th Mar
      26th Mar
      27th Mar
      28th Mar
      29th Mar
      30th Mar
      31st Mar
      1st Apr
      2nd Apr
      3rd Apr
      4th Apr
      5th Apr
      6th Apr
      7th Apr
      8th Apr
      9th Apr
      10th Apr
      11th Apr
      12th Apr
      13th Apr
      14th Apr
      15th Apr
      16th Apr
      17th Apr
      18th Apr
      19th Apr
      20th Apr
      21st Apr
      22nd Apr
      23rd Apr
      24th Apr
      25th Apr
      26th Apr
      27th Apr
      28th Apr
      29th Apr
      30th Apr
      1st May
      2nd May
      3rd May
      4th May
      5th May
      6th May
      7th May
      8th May
      9th May
      10th May
      11th May
      12th May
      13th May
      14th May
      15th May
      16th May
      17th May
      18th May
      19th May
      20th May
      21st May
      22nd May
      23rd May
      24th May
      25th May
      26th May
      27th May
      28th May
      29th May
      30th May
      31st May
      1st Jun
      2nd Jun
      3rd Jun
      4th Jun
      5th Jun
      6th Jun
      7th Jun
      8th Jun
      9th Jun
      10th Jun
      11th Jun
      12th Jun
      13th Jun
      14th Jun
      15th Jun
      16th Jun
      17th Jun
      18th Jun
      19th Jun
      20th Jun
      21st Jun
      22nd Jun
      23rd Jun
      24th Jun
      25th Jun
      26th Jun
      27th Jun
      28th Jun
      29th Jun
      30th Jun
      1st Jul
      2nd Jul
      3rd Jul
      4th Jul
      5th Jul
      6th Jul
      7th Jul
      8th Jul
      9th Jul
      10th Jul
      11th Jul
      12th Jul
      13th Jul
      14th Jul
      15th Jul
      16th Jul
      17th Jul
      18th Jul
      19th Jul
      20th Jul
      21st Jul
      22nd Jul
      23rd Jul
      24th Jul
      25th Jul
      26th Jul
      27th Jul
      28th Jul
      29th Jul
      30th Jul
      31st Jul
      1st Aug
      2nd Aug
      3rd Aug
      4th Aug
      5th Aug
      6th Aug
      7th Aug
      8th Aug
      9th Aug
      10th Aug
      11th Aug
      12th Aug
      13th Aug
      14th Aug
      15th Aug
      16th Aug
      17th Aug
      18th Aug
      19th Aug
      20th Aug
      21st Aug
      22nd Aug
      23rd Aug
      24th Aug
      25th Aug
      26th Aug
      27th Aug
      28th Aug
      29th Aug
      30th Aug
      31st Aug
      1st Sep
      2nd Sep
      3rd Sep
      4th Sep
      5th Sep
      6th Sep
      7th Sep
      8th Sep
      9th Sep
      10th Sep
      11th Sep
      12th Sep
      13th Sep
      14th Sep
      15th Sep
      16th Sep
      17th Sep
      18th Sep
      19th Sep
      20th Sep
      21st Sep
      22nd Sep
      23rd Sep
      24th Sep
      25th Sep
      26th Sep
      27th Sep
      28th Sep
      29th Sep
      30th Sep
      1st Oct
      2nd Oct
      3rd Oct
      4th Oct
      5th Oct
      6th Oct
      7th Oct
      8th Oct
      9th Oct
      10th Oct
      11th Oct
      12th Oct
      13th Oct
      14th Oct
      15th Oct
      16th Oct
      17th Oct
      18th Oct
      19th Oct
      20th Oct
      21st Oct
      22nd Oct
      23rd Oct
      24th Oct
      25th Oct
      26th Oct
      27th Oct
      28th Oct
      29th Oct
      30th Oct
      31st Oct
      1st Nov
      2nd Nov
      3rd Nov
48 Main South Road
Myponga, SA, 5202
Located 6.9K from Sellicks Beach
Smiling Samoyed Quiz Nights
As of the 12th October 2018 Smiling Samoyed will be extending trade on Fridays into the evening. We will be running a weekly quiz night from 7pm through "Quizmeister". There will be a weekly local produce raffle showcasing our suppliers and produce across the Fleurieu Region.
Event Dates
2019
      25th Jan
      1st Feb
      8th Feb
      15th Feb
      22nd Feb
      1st Mar
      8th Mar
      15th Mar
      22nd Mar
      29th Mar
      5th Apr
      12th Apr
      19th Apr
      26th Apr
      3rd May
      10th May
      17th May
      24th May
      31st May
      7th Jun
      14th Jun
      21st Jun
      28th Jun
      5th Jul
      12th Jul
      19th Jul
      26th Jul
      2nd Aug
      9th Aug
      16th Aug
      23rd Aug
      30th Aug
      6th Sep
      13th Sep
48 Main South Road
Myponga, SA, 5202
Located 6.9K from Sellicks Beach
Chilli Fest Willunga
'All things chilli on the 9th and 10th February in Willunga. Chilli plants and produce, chilli foods and cooking demonstrations plus chill related merchandise. "Chill Out" at our local Artisan Market with live music, local beer, wine and sangria.
Chilli Fest Willunga is in association with Hillside Herbs McLaren Vale and hosted by the Willunga Recreation Park - Community Owned and Managed'

Event Dates
2019
      9th Feb
      10th Feb
5 Main Road
Willunga, SA, 5172
Located 11.6K from Sellicks Beach
Willunga Almond Blossom Festival
The annual Willunga Almond Blossom Festival is held the last weekend in July and is an exciting mix of food, fun and entertainment aimed at all ages, locals and visitors from far and wide.
The celebrations attract total crowds upwards of 10,000 people and are a showcase of all that Willunga and the surrounding areas have to offer. The festival celebrates the first blossom of the season, an important part of the history and landscape of the area.
The program features the very popular and well-known Willunga Farmers Market on Saturday morning, with our family friendly fair day weekend following on with live music, craft activities, giant games, carnival rides and more market stalls, with fireworks Saturday night. Sunday's fair day begins in High street with a street parade leading to the festival's market stalls, free family activities on the oval plus live music, petting zoo, pony rides, dog agility show food trucks and carnival rides.
Please refer to event website for full program and costs.
Event Dates
2019
      27th Jul
      28th Jul
7 Main Road
Willunga, SA, 5172
Located 11.6K from Sellicks Beach
Sellicks Beach Map
Sellicks Beach Map - Legend

Multiple Hotels

Hotel
Click on the map markers for more information. Hover over the map to zoom in & out or see satellite & terrain views.