Dracula's Cabaret 'B' Reserve
Dracula's Cabaret Restaurant - Broadbeach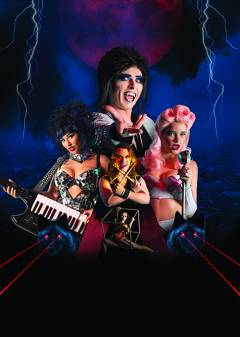 Dracula's Cabaret
Duration:
Valid for 01APR18-31MAR20:
3.5 hours.

Departure Days:
Valid for 01APR18-31MAR20:
Tuesday, Wednesday, Thursday, Friday, Saturday.

Departure Time:
Arrival time for B Reserve Seating is 7:00pm-7:30pm.
Departure Point:
Dracula's Cabaret Restaurant
Meals:
- 3 course dinner.
Not Included:
Valid for 01APR18-31MAR20:
- Beverages.
- Souvenirs.

Inclusions:
Valid for 01APR18-31MAR20:
- Ghost train ride.
- Live variety show.
- 3 course meal.
- B reserved seating.
- Mausleum Welcome.

Itinerary:
Valid for 01APR17-31MAR20:
Be thrilled with excitement! Scream with fear! Experience an unforgettable evening that will leave you breathless.
Enter via Dracula's ghost train ride into the Theatre of the Vampyre', where weird waiters and talented performers sink their teeth into a night of circus, comedy, rock, puppetry and amazing horror FX. The three course dinner features the best fresh Australian produce, served with flair and madness. You will experience horror displays and scary, interactive gimmicks. Every corner hides a secret and every experience will leave you screaming with delight! There is nowhere in the world quite like Dracula's Cabaret Circus. Dare to enter and we promise that you will leave exhilarated!.

Child Policy:
Valid for 01APR18-31MAR20:
Child: 0-17 years inclusive - not catered for.

Important Information:
Valid for 01APR17-31MAR20:
Dress Standards:
- Strictly smart attire only.
- For Men this means no thongs, no sandals, closed toes shoes only. No beach attire. Dress shorts are accepted but long pants are preferred.
- For women this means no thongs and no beach attire.

Age Recommendations:
- Recommended for mature audiences only. Not recommended for children under the age of 18 years.
- May contain some adult content of a sexual nature and some nudity.