Cygnet bay Explorer - KL6D
Air Kimberley - Broome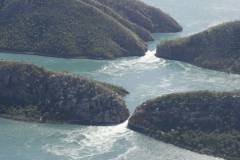 King Leopold
| | | |
| --- | --- | --- |
| Cost: | | A$1970 (2 Passengers) |
Departure Days:
Daily except 06APR22-08APR22, 26APR22-28APR22, 29JUN22-01JUL22, 18JUL22-20JUL22, 21SEP22-23SEP22, 10OCT22.
Departure Time:
07:00am (06:30am pick up)
Departure Point:
Air Kimberley Terminal, 7 Gus Winckel Road, Broome Airport
Pickup:
Broome Accommodation.
Dropoff:
Broome Accommodation.
Meals:
- Morning Tea or Afternoon Tea

- Lunch

- Snacks and refreshments
| | | |
| --- | --- | --- |
| Cost: | | A$1970 (2 Passengers) |
Inclusions:
- Return Broome accommodation transfer

- Window seat for every passenger with personal headsets for pilot commentary

- Photo opportunities

- Stopover at Mitchell Plateau

- Stopover at Ardyaloon for swim

- Trochus Hatchery and Aquaculture Centre

- Cygnet Bay Pearl Farm

- Sea Safari and Pearl Farm

- Sourvenir tour map, sourvenir photo, stubby cooler, Matso's ginger beer

- Refreshing face towels and Matso's drink voucher.

What to Bring:

- Sunglasses

- Hat

- Sunscreen

- Swimwear

- Towel

- Camera
Itinerary:
Valid for 01APR22-31MAR23:
Departing Broome and track across the Dampier Peninsula and overhead King Sound, home to Australia's largest tides and amongst the highest in the world. Overfly the Horizontal Waterfalls described by Sir David Attenborough as 'the 8th Natural Wonder of the World.' Fly across the stunning Buccaneer Archipelago, home to 1,000 islands made of Precambrian sandstone over 2 billion years old. Fly overhead Koolan and Cockatoo Island, home to the world's richest iron ore deposits. Landing at the Ardyaloon (One Arm Point) community, enjoy a refreshing swim at the beautiful Jologo Beach. Visit the Ardyaloon Trochus Hatchery and Aquaculture Centre for a guided tour with an experienced local guide. Enjoy a fascinating and educational tour of the Hatchery which contains a diverse range of fish, coral, and crustacean species whilst learning about the Bardi-Jawi people's strong connection to their saltwater traditions and get up close and personal with some of the fish and coral species most prevalent in the area. We then take the short flight across to Cygnet Bay Pearl Farm where you will enjoy a Pearl Farm Appreciation Tour, giving visitors an insight into the fascinating history of pearling in Cygnet Bay and how they cultivate some of the most sought-after and beautiful pearls in the world. The knowledgeable tour guides will demonstrate a pearl harvest giving a glimpse into a fully operational pearl farm. The tour concludes with an in-depth pearl appreciation session that will leave you feeling like a pearl expert. Enjoy a delicious lunch and a quick swim in the on-site swimming pool before headng off on a sea safari boat tour to explore the 'Giant Tides'** of the spectacular Kimberley Coast – an isolated and rugged coastline where tides of up to 12m push their way through the islands of the Buccaneer Archipelago off the tip of the Dampier Peninsula. Feel the power of the world's largest tropical tides as you cruise amongst the giant whirlpools and standing tidal waves. Venture into Escape Passage, recently described by scientists as the fastest ocean currents in the world! After the sea safari, we then head back to the airstrip for a scenic flight to see the spectacular bays and beaches of the Dampier Peninsula, Beagle Bay, James Price Point, Willie Creek and Broome's world-famous Cable Beach as we track coastal southbound back to Broome.

Child Policy:
Valid for 01APR21-31MAR23:

Infant: 0-2 years inclusive - free of charge when travelling on the lap of an adult.

Child: 3-13 years inclusive - child rates appl.

Important Information:
Valid for 01APR22-31MAR23:
During neap tides, the Kimberley Island Explorer Tour replaces Giant Tides Tour. The Horizontal Waterfalls is a natural phenomenon which is tide dependant with variable flow. King Leopold Air will do their best to arrive at a time of optimum flow, they cannot guarantee the amount or level of water flowing through the Horizontal Waterfalls at any given time.

Luggage Restriction:
- Luggage is restricted to a maximum of 5kg per person. A small backpack or soft bag is recommended and will be stowed in the aircraft's luggage hold.

Aircraft:
- Typically, a Cessna 182, 200 series or GA8 Airvan, which are the ideal aircraft for Kimberley conditions. These are usually fitted with up to 7 passenger seats and have a high wing design, which creates greater stability and allows for optimum viewing. This type of aircraft can also cover great distances very quickly, making them ideal for tours into even the most remote and often inaccessible Kimberley attractions.

Tour Itinerary:
- Air Kimberley reserves the right to amend/cancel flight itineraries due to weather conditions or other unforeseen circumstances.

Booking Requirements:
- Passenger's body weights are required at time of booking for flight fuel, weight, and balance purposes. Passenger's contact details (i.e., mobile number, accommodation) are also required at time of booking for last minute changes. Please also provide any dietary requirements and/or allergies.- Bookings pending minimum numbers will be waitlisted until tour is confirmed.