Cathedral Cave Tour
Capricorn Caves

-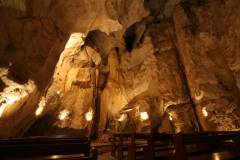 Capricorn Caves
| | | |
| --- | --- | --- |
| Cost: | | A$70 (2 Passengers) |
Departure Days:
Valid for 01APR19-31MAR21: Daily except 24DEC (last tour 11.00am on the 24th), 25DEC.

Departure Time:
Hourly from 9:00am to 4:00pm.
Departure Point:
Capricorn Caves Hotel Reception.
Not Included:
- Hotel pick up and drop off.
- Meals.
| | | |
| --- | --- | --- |
| Cost: | | A$70 (2 Passengers) |
Inclusions:
- Guided commentary.
- Hand out launguage translations (German, French, Japanese and Chinese).

What to Bring:
- Enclosed footwear.
Itinerary:
Valid for 01APR18-31MAR21:
Join your tour at the Capricorn Caves Hotel Reception to commence a Cathedral Cave Tour. These amazing tropical limestone caves offer a beauty different to that of deep underground caves. Tours are conducted by experienced guides through large well lit caverns with beautiful decorations, rare ferns and massive tree roots and occasionally small bats. The huge domed Cathedral Cave is renowned for its acoustics and is a popular wedding venue. A fun option at the end of the tour is a walk through the pioneer passage on to a swinging suspended bridge in the rainforest. Tour concludes approximately one hour after commencement.

Child Policy:
Valid for 01APR18-31MAR21:
Accommodation services
Infant: 0-2 years inclusive - stay free of charge when sharing with adults and using existing bedding.
Child: 3-15 years inclusive - adult rates apply.

Touring Services
Cathedral Cave Tour:
Infant: 0-4 years inclusive - free of charge.
Child: 5-15 years inclusive- child rates apply

Adventure Caving:
Infant: 0-14 years inclusive - not permitted.
Child: 16 years and over - adult rates apply.

Fossil Tour:
Infant: 0-4 years inclusive - free of charge.
Child: 5-15 years inclusive- child rates apply

Important Information: