Rottnest Extended Return
Sealink WA

- Fremantle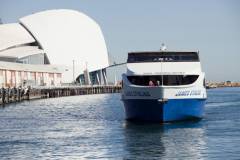 Captain Cook
Maximum Passengers Per Vehicle:

Baggage Capacity:

Arrival Information:

Departure Information:


Timetable:

Valid for 01FEB22-31MAR22:
Fremantle to Rottnest:

- 07:00am

- 09:00am

- 11:00pm

- 03:00pm

Friday, Saturday and Sunday only:

- 08:00am

- 09:45am

- 04:00pm

- 06:00pm


Operation Hours: Daily except 25DEC.

Additional Information:

- All schedules subject to change.

- Ferry takes approximately 30 minutes each way.

- Boarding for all passengers closes 10 mimutes prior departure.

- Please allow a 30 minute minimum check-in time prior to departure in order to collect your boarding pass(es) and appropriate luggage arrangements.