Sydney Airport (Dom) to Double Bay - Sedan
Royale Limousines

- Sydney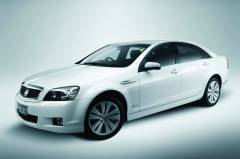 Royale
Trailers:

When use of a trailer is required an additonal charge will apply. Please contact us for rates.

Sydney New Years Eve:

Transfers do not operate on 31December from 4:00pm to 3:00am due to road closures.
Maximum Passengers Per Vehicle: 2
Baggage Capacity: 2 suitcases and 2 carry on luggage. Excess luggage transportation by taxi at owner's expense.

Arrival Information:
Virgin Australia and Jetstar (Domestic Terminal 2) and Qantas (Domestic Terminal 3):

- After collecting your luggage, proceed to the designated meeting area 'Royale Premium Limousines' Domestic Parking Bay - Shuttle Bus pick up area located outside the terminal near Qantas Valet at Terminal 3. For flight arriving at Terminal 2, customers need to take a short walk through the car park to get to Terminal 3. As this is a shuttle coach service, there may not be a driver waiting immediately, please continue to wait up to 30 minutes. Once contact has been made, there can be an additional 30 minute wait time before your transfer departs. Should you not make contact with the driver after 30 minutes, please contact Royale Coaches, 1300 650 260 for further instructions.

Additional Information:
Booking Conditions:

- Pick-up and drop-off details including flight numbers must be advised at time of booking.

- Luggage cannot be carried in the cabin.