Islands & Whitehaven Beach - PM - ex Hamilton Island
Cruise Whitsundays

- Hamilton Island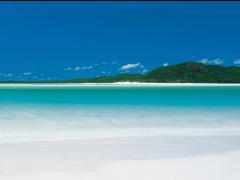 Whitehaven Beach, Cruise Whitsundays
| | | |
| --- | --- | --- |
| Cost: | | A$198 (2 Passengers) |
Departure Time:
1:00pm (check in at 12:30pm).
Departure Point:
Hamilton Island Marina.
Not Included:
- Beverages.
| | | |
| --- | --- | --- |
| Cost: | | A$198 (2 Passengers) |
Inclusions:
- Cruise the Whitsunday Islands.
- Informative commentary.
- Time at Whitehaven Beach (1.5 - 2 hours).

What to Bring:
- Swimwear.
- Towel.
- Protective clothing from the sun.
- Hat.
- Sunscreen.
- Light jacket in cooler months.
- Camera.
- Cash for purchases.
Itinerary:
Valid for 01APR16-31MAR19:
Board your Cruise Whitsundays vessel at Hamilton Island Marina to commence an afternoon Whitsunday Islands and Whitehaven Beach cruise. Your cruise vessel has expansive seating areas inside and out and your skipper will provide an informative commentary on the history and natural wonders of the area. Cruise through the Whitsunday Islands to the world famous Whitehaven Beach. Afternoon tea is included onboard. The crystal clear aqua waters and pristine white silica sand stretch for over seven kilometres along Whitsunday Island, the largest of the 74 islands in the Whitsundays. Enjoy time to wander along the beach to your own secluded stretch, laze on the beach or swim in the azure waters. Transfer back to Hamilton Island, where cruise concludes at approximately 5.00pm.

Child Policy:
Valid for 01APR16-31MAR19:
Day Cruises and Transfers:
Infant: 0-3 years inclusive - free of charge. Please advise at time of booking when infant is travelling.
Child: 4-14 years inclusive - child rates apply.

Whitehaven Beach Adventure and Hill Inlet Tour:
Infant: 0-3 years inclusive - not catered for.
Child: 4-14 years inclusive - child rates apply.

Reefsleep:
Child: 0-11 years inclusive - not catered for.
Child: 12-14 years inclusive - adult rates apply.

Important Information:
Valid for 01APR16-31MAR19:
Booking Conditions:
- Cruise Whitsunday Pty Ltd reserves the right to cancel departures, activities or arrange alternative transport, itineraries and services when necessary.

Weather Conditions:
- In the interest of passenger's safety departures, itineraries and activities are subject to sea and weather conditions. Should Cruise Whitsunday Pty Ltd be forced to cancel or alter cruises their liability is limited to offering an alternative or an appropriate refund no greater than the fare paid.

Time Table:
~~ 01-Apr-2016 to 31-Mar-2017~~Ferry Timetable as at 31OCT16:

Hamilton Island Marina to Shute Harbour:
Depart - Arrive
7.15am - 7.50am: Direct
4.00pm - 4.35pm: Direct
5.25pm - 6.00pm: Direct

Hamilton Island Marina to Port of Airlie (Airlie Beach):
Depart - Arrive
8.30am - 9.25am: Direct
8.50am - 10.10am: via Hamilton Island Airport and Daydream Island Resort and Spa
9.45am - 11.10am: via Hamilton Island Airport and Daydream Island Resort and Spa
11.20am-12.40pm: via Hamilton Island Airport and Daydream Island Resort and Spa
12.00pm - 1.35pm: via Hamilton Island Airport and Daydream Island Resort and Spa
2.10pm - 3.35pm: via Hamilton Island Airport and Daydream Island Resort and Spa
3.05pm - 4.30pm: via Hamilton Island Airport and Daydream Island Resort and Spa
5.00pm - 5.55pm: Direct
5.10pm - 6.10pm: Direct on Great Barrier Reef vessel
5.10pm - 6.20pm: via Daydream Island Resort and Spa

Hamilton Island Marina to Daydream Island Resort and Spa:
Depart - Arrive
8.50am - 9.35am: via Hamilton Island Airport
9.45am - 10.30am: via Hamilton Island Airport
11.20am - 12.05pm: via Hamilton Island Airport
12.00pm - 12.55pm: via Hamilton Island Airport
2.10pm - 2.55pm: via Hamilton Island Airport
3.05pm - 3.50pm: via Hamilton Island Airport
5.10pm - 5.40pm: Direct

Shute Harbour to Hamilton Island Marina
Depart - Arrive
6.30am - 7.05am: Direct
8.00am - 8.35am: Direct
4.45pm - 5.20pm: Direct

Port of Airlie to Hamilton Island Marina
Depart - Arrive
7.00am - 8.20am: via Daydream Island Resort and Spa and Hamilton Island Airport
8.00am - 9.00am: Direct on Great Barrier Reef vessel
8.30am - 9.40am: via Daydream Island Resort and Spa
10.00am - 11.10am: via Daydream Island Resort and Spa
10.45am - 11.55am: via Daydream Island Resort and Spa
11.30am - 12.55pm: via Daydream Island Resort and Spa and Hamilton Island Airport
1.45pm - 2.55pm: via Daydream Island Resort and Spa
2.40pm - 3.50pm: via Daydream Island Resort and Spa
3.50pm - 4.45pm: via Daydream Island Resort and Spa

Daydream Island Resort and Spa to Hamilton Island Marina:
Depart - Arrive
7.35am - 8.20am: via Hamilton Island Airport
9.10am - 9.40am: Direct
10.40am - 11.10am: Direct
11.25am - 11.55am: Direct
12.10pm - 12.55pm: via Hamilton Island Airport
2.25pm - 2.55pm: Direct
3.20pm - 3.50pm: Direct
4.25pm - 4.55pm: Direct

Port of Airlie to Daydream Island Resort and Spa:
Depart - Arrive
6.45am - 7.15am: Direct
7.00am - 7.30am: Direct
8.30am - 9.00am: Direct
10.00am - 10.30am: Direct
10.45am - 11.15am: Direct
11.30am - 12.00pm: Direct
1.45pm - 2.15pm: Direct
2.40pm - 3.10pm: Direct
3.50pm - 4.20pm: Direct
5.00pm - 5.30pm: Direct

Daydream Island Resort and Spa to Port of Airlie:
Depart - Arrive
7.20am - 7.50am: Direct
9.40am - 10.10am: Direct
10.40am - 11.10am: Direct
12.10pm - 12.40pm: Direct
1.05pm - 1.35pm: Direct
3.05pm - 3.35pm: Direct
4.00pm - 4.30pm: Direct
5.35pm - 6.05pm: Direct
5.50pm - 6.20pm: Direct

Timetable Changes:
- All timetables are subject to change without notice.
- Departure times may vary, please call to reconfirm times.~~~~



~~ 01-Apr-2017 to 31-Mar-2018~~Ferry Timetable as at 26JUL17:

Hamilton Island Marina to Shute Harbour:
Depart - Arrive
7.15am - 7.50am: Direct
4.00pm - 4.35pm: Direct
4:55pm - 5:30pm: Direct
5.25pm - 6.00pm: Direct

Hamilton Island Marina to Port of Airlie (Airlie Beach):
Depart - Arrive
7:15am - 8:15am: Direct (Monday - Saturday Only)
8.40am - 9:40am: Direct
8:40am - 9:45am: via HTIA
9.45am - 10.50am: Direct
12.35am -1.45pm: via HTIA
1.40pm - 2.35pm: Direct
3.50pm - 5:05pm: via HTIA and DDI
5.10pm - 6.05pm: Direct on Whitehaven Beach Vessel
5.10pm - 6.10pm: Direct on Great Barrier Reef vessel

Hamilton Island Marina to Daydream Island Resort and Spa:
Depart - Arrive
8.50am - 9.35am: via Hamilton Island Airport
9.45am - 10.30am: via Hamilton Island Airport
11.20am - 12.05pm: via Hamilton Island Airport
12.00pm - 12.55pm: via Hamilton Island Airport
2.10pm - 2.55pm: via Hamilton Island Airport
3.05pm - 3.50pm: via Hamilton Island Airport
5.10pm - 5.40pm: Direct

Shute Harbour to Hamilton Island Marina
Depart - Arrive
6.30am - 7.05am: Direct
8.00am - 8.35am: Direct
4.45pm - 5.20pm: Direct

Port of Airlie to Hamilton Island Marina
Depart - Arrive
7.00am - 7:55am: Direct on Whitehaven Beach Vessel
7:30am - 8:35am: via DDI
8.00am - 9.00am: Direct on Great Barrier Reef vessel
8.35am - 9.35am: Direct
10.00am - 11.10am: via HTIA
11:00am - 11.55am: Direct
12:00pm - 12.55pm: Direct
2:00pm - 2.55pm: Direct
2.50pm - 3.45pm: Direct
3.50pm - 4.45pm: Direct

Daydream Island Resort and Spa to Hamilton Island Marina:
Depart - Arrive
7.35am - 8.20am: via Hamilton Island Airport
9.10am - 9.40am: Direct
10.40am - 11.10am: Direct
11.25am - 11.55am: Direct
12.10pm - 12.55pm: via Hamilton Island Airport
2.25pm - 2.55pm: Direct
3.20pm - 3.50pm: Direct
4.25pm - 4.55pm: Direct

Port of Airlie to Daydream Island Resort and Spa:
Depart - Arrive
6.45am - 7.15am: Direct
7.00am - 7.30am: Direct
8.30am - 9.00am: Direct
10.00am - 10.30am: Direct
10.45am - 11.15am: Direct
11.30am - 12.00pm: Direct
1.45pm - 2.15pm: Direct
2.40pm - 3.10pm: Direct
3.50pm - 4.20pm: Direct
5.00pm - 5.30pm: Direct

Daydream Island Resort and Spa to Port of Airlie:
Depart - Arrive
7.20am - 7.50am: Direct
9.40am - 10.10am: Direct
10.40am - 11.10am: Direct
12.10pm - 12.40pm: Direct
1.05pm - 1.35pm: Direct
3.05pm - 3.35pm: Direct
4.00pm - 4.30pm: Direct
5.35pm - 6.05pm: Direct
5.50pm - 6.20pm: Direct

Timetable Changes:
- All timetables are subject to change without notice.
- Departure times may vary, please call to reconfirm times.~~~~