Shuttle-BNE Apt (Dom) to Sun Cst (Peregian to Noosa)
Trip Shuttle Operated by Airport Con-x-ion

- Brisbane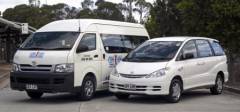 Brisbane Airport transfer to Sunshine Coast
Baggage Capacity:
- Luggage is limited to 1 suitcases and one piece of hand luggage per person. Excess baggage will only be carried at the discretion of Con-x-ion, an additional charge may apply.
- Surf boards can only be transported if under 2 metres in length.

Arrival Information:
All arriving passengers are to proceed to the Con-X-ion information counter where check-in will occur. Passengers will then be directed curbside to their departing shuttle bus. If you are unable to locate the Con-x-ion booth, please asked airport ambassadors for assistance or phone 1300 266 946.

Operation Hours:
- Transfers are limited on Anzac Day and Good Friday.
- No services operate on Christmas Day.

Additional Information:
- Last Service for transfer to Sunshine coast accommodation is 10:00pm.
- One way transfer from Brisbane Airport to Sunshine Coast (from Peregian Beach to Noosa) Accommodation.

Booking Information:
- Please advise passenger mobile phone number to Airport Con-x-ion.
- Please advise if arrival and departure is Domestic or International Airport.

Noosa North Shore Transfer Restrictions:
- Con-X-Ion Coaches do not pick-up or drop-off at Beach Road Holiday Homes on the Noosa North Shore due to the ferry crossing required to get this property. Clients must be dropped off at the Noosa transit centre to meet a free shuttle service to the accommodation. Clients may also not make the first coach transfer from Noosa due to ferry timetable restrictions.