Bundaberg to Lady Elliot Island - Return
Lady Elliot Island Eco Resort - Bundaberg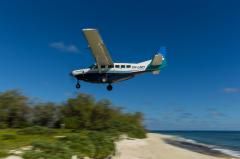 Island landing
Transfer confirmation required to confirm accommodation:
-Flight transfers to/from Lady Elliot Island Eco Resort must be booked at the time of the accommodation booking.
-Names and ages of passengers are required at time of booking due to weight requirements on aircraft.
-Please provide contact mobile number for passengers travelling due to reconfirmation of flights.
Valid for 01APR17-31MAR19:
Transfer Information:
- Transfers must be reconfirmed 24 hours prior on 1800 072 200.
- Arrival and departure flight numbers, arrival and departure times, and port details are required at the time of booking.
- Passengers must check-in for flights 30 minutes prior to departure at the Lady Elliot Terminal, Hervey Bay Airport.
- Transfers are on request basis only and must be booked in conjunction with Lady Elliot Island Eco Resort accommodation.
- Baggage limited to 15kg per person. A charge will be incurred for extra baggage. As the aircraft is often full, extra baggage cannot always be carried on the same aircraft as tha passenger. No more than 10kgs of excess baggage permitted. All necessary dive gear is available for hire at Lady Elliot Island Eco Resort. Storage of excess luggage available at Bundaberg airport (charges payable direct).

- Flights do not operate 25DEC.
- Limited flights on 01JAN.

Booking Conditions:
- Seair Pacific provides daily flights from Bundaberg Airport to Lady Elliot Island and return.
- Transfers are an additional cost and must be booked in conjunction with accommodation at Lady Elliot Island Eco Resort.
- Flight arrival and departure times are subject to variation.
- Fuel levy of AUD5.00 applies, payable direct. Subject to change.
~~ 01-Apr-2016 to 31-Jan-2017~~Valid for 01APR16-31JAN17:
Hervey Bay to Lady Elliot Island:
SE900 Departs 8:10am arrives 8:50am.
SE922 Departs 12:40pm, arrives 1:20pm.
- Flight time is approximately 40 minutes.

Lady Elliot Island to Hervey Bay
SE921 Departs 11:00am arrives 11:40am.
SE905 Departs 4:00pm, arrives 4:40pm.
- Flight time is approximately 40 minutes.

Bundaberg to Lady Elliot Island:
SE800 Departs 8:40am arrives 9:10am.
SE822 Departs 1:10pm, arrives 1:40pm.
- Flight time is approximately 30 minutes.

Lady Elliot Island to Bundaberg:
SE821 Departs 11:00am arrives 11:30am.
SE805 Departs 4:00pm, arrives 4:30pm.
- Flight time is approximately 30 minutes.

Brisbane (Redcliffe) to Lady Elliot Island:
SE700 Departs 7:15am arrives 8:45am.
- Flight time is approximately 90 minutes.

Lady Elliot Island to Brisbane (Redcliffe):
SE701 Departs 2:30pm arrives 4:00pm.
- Flight time is approximately 90 minutes.

Coolangatta to Lady Elliot Island (via Brisbane):
SE600 Departs 6:45am arrives 8:45am.
- Flight time is approximately 2 hours.

Lady Elliot Island to Coolangatta (via Brisbane):
SE601 Departs 2:30pm arrives 4:30pm.
- Flight time is approximately 2 hours.

~~ 01-Apr-2016 to 31-Mar-2017~~Valid for 01APR16-31MAR17:
Brisbane (Redcliffe) to Lady Elliot Island:
SE700 Departs 7:15am arrives 8:45am.
- Flight time is approximately 90 minutes.~~~~
~~ 01-Apr-2017 to 31-Mar-2018~~Valid for 01APR17-31MAR18:
Brisbane (Redcliffe) to Lady Elliot Island:
SE600 Departs 7:15am arrives 8:45am.
- Flight time is approximately 90 minutes.~~~~

- Note times are subject to change without notice and must be reconfirmed.~~~~

~~ 01-Feb-2017 to 31-Mar-2018~~Valid for 01FEB17-31MAR18:
Hervey Bay to Lady Elliot Island:
SE900 Departs 8:10am* arrives 8:50am.
SE902 Departs 10:30am arrives 11:10am.
SE904 Departs 1:00pm, arrives 1:40pm.
- Flight time is approximately 40 minutes.

Lady Elliot Island to Hervey Bay
SE901 Departs 09:30am arrives 10:10am.
SE903 Departs 11:30am, arrives 12:10pm.
SE905 Departs 4:00pm*, arrives 4:40pm.
- Flight time is approximately 40 minutes.

Bundaberg to Lady Elliot Island:
SE800 Departs 8:40am arrives 9:10am.
SE804 Departs 1:30pm, arrives 2:00pm.
- Flight time is approximately 30 minutes.

Lady Elliot Island to Bundaberg:
SE803 Departs 11:30am arrives 12:00am.
SE805 Departs 4:00pm*, arrives 4:30pm.
- Flight time is approximately 30 minutes.

Brisbane (Redcliffe) to Lady Elliot Island:
SE700 Departs 7:15am arrives 08:45am.
- Flight time is approximately 90 minutes.

Lady Elliot Island to Brisbane (Redcliffe):
SE701 Departs 2:30pm arrives 4:00pm.
- Flight time is approximately 90 minutes.

Coolangatta to Lady Elliot Island (via Brisbane):
SE600 Departs 6:45am arrives 8:45am.
- Flight time is approximately 2 hours.

Lady Elliot Island to Coolangatta (via Brisbane):
SE601 Departs 2:30pm arrives 4:30pm.
- Flight time is approximately 2 hours.

* Flights are for day guests or 1 night stays only.
- Note times are subject to change without notice and must be reconfirmed.~~~~