Cairns Domestic Airport to Cairns CBD - Luxury Sedan
Exemplar Coaches & Limousines

- Cairns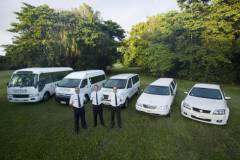 Exemplar Fleet
Maximum Passengers Per Vehicle: 3.
Baggage Capacity: 2 suitcases and 2 small hand luggage. Excess luggage transportation by taxi at owner's expense.

Arrival Information:

Valid for 01APR17-31MAR18:
Arrivals between 8:00am-6:00pm -
On arrival please make your way directly to the baggage claim hall and make yourself known to the Exemplar airport concierge staff member who will be waiting near your carousel, before you collect your luggage. The concierge staff will be wearing a navy skirt or trousers, white blouse or shirt and a navy tie or scarf. When you are ready to depart, the concierge will call in your vehicle which will be about three minutes away, and direct or escort you to your assigned vehicle.

Arrivals between 6:00pm-8:00am -
Meet your driver at your assigned luggage carousel - driver will be at the carousel 15 minutes after the flight has landed. Drivers can be identified by the Exemplar Coaches and Limousines sign they will be holding with your name on it, and will be wearing navy skirt or trousers, white blouse or shirt and navy tie or scarf. On baggage collection, driver will escort you to your vehicle.