Cairns Int Apt to Northern Beaches -1-3 Private Veh-One Way
Exemplar Coaches & Limousines

- Cairns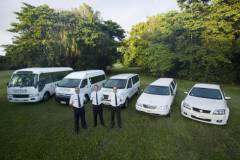 Exemplar Fleet
Valid for 01APR17-31MAR19:
- The vehicle will either be a sedan or a Hyundai Imax depending on availability.

Maximum Passengers Per Vehicle: 3.
Baggage Capacity: 2 suitcases and 2 small hand luggage. Excess luggage transportation by taxi at owner's expense.

Arrival Information:

Valid for 01APR17-31MAR18:
Meet your driver at the main exit from Customs, in the Arrivals Hall. Your driver will position him/herself just outside the Customs door 30 minutes after your aircraft's actual landing time. Drivers can be identified by the Exemplar Coaches and Limousines sign they will be holding with your name on it.

If you have an Australian capable phone, please turn it on as soon as possible after landing. Please note that Customs/Quarantine clearance times vary and are unpredictable. If after arrival you anticipate being considerably delayed through Customs, please call the Exemplar Office on the phone number provided. Exemplar staff will advise the status of your assigned vehicle, or if necessary arrange an alternative vehicle.