Port Douglas to Cairns Domestic Airport - Toyota Hiace
Exemplar Coaches & Limousines

- Port Douglas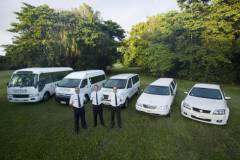 Exemplar Fleet
Maximum Passengers Per Vehicle: 13.
Baggage Capacity: Max of 2 x 23kg bags plus ,carry on. Additional may be carried in assigned vehicle, or other Exemplar vehicle, at $10/bag.

Arrival Information:
-Domestic Terminal
On arrival please proceed directly to the meeting point by following the 'Baggage' signs and exiting through the glass doors to the carousel area.
Your driver will be waiting adjacent to your baggage carousel with your party's name on it. He/she will be in a uniform of dark blue trousers/skirt, white shirt and dark blue tie/neck-scarf. Make yourself known before proceeding to your baggage carousel.

International Terminal
After you have passed through customs you will exit through doors to a general reception area. Your driver will be just outside those doors holding a board with your party's name on it.