Print Page
Hamilton Island Reef View Hotel


12 Resort Drive , Hamilton Island QLD 4803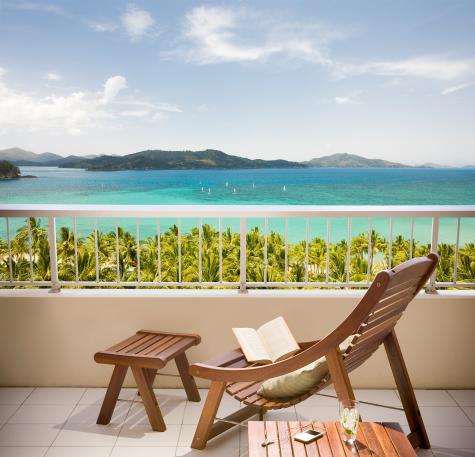 Coral Sea View room
The Reef View Hotel features extremely spacious, well-appointed rooms all with private balconies overlooking either tropical gardens or the breathtaking vista of the Coral Sea. The upper most floors boast a range of newly refurbished and luxuriously appointed suites. All rooms face the sea complete with outdoor furniture to experience the spectacular sunrises and sunsets.
Facilities:
24 Hour Reception
Bar on Premises
Babysitting Available
Conference Facilities
Cots Available
Courtesy Transfers
Day Tours/Tour Desk
Disabled Facilites-Assistance
Eftpos Facilities
Free Wi-Fi
Gymnasium
Hairdresser
High Rise (3 Floors or More)
Hotel
Kids Club
Lift
Guest Laundry
Masseur/Masseuse
Medical Facilities
Mini Golf
Night Entertainment
Non Smoking - All Rooms
Pool
Porter Service
Recreation Facilities
Restaurant - On Premises
Room Service Available
Resort Shop
Spa
Tennis Court - Full Size
Water Sports Gear
Reception Hours:
24 hours.
Check In/Out Info:
Internet Facilities: Free Wi-fi with download limits at selected locations across the island.
Distance To Nearest Airport:
Hamilton Island Airport - located on Island.
Distance To Nearest Beach:
100m.
Distance To Nearest Public Transport:
Island Shuttle picks up at front door of hotel.
Credit Cards Accepted:
Amex. Bankcard. Visa. Mastercard. EFTPOS. Credit card surcharges apply.
Note that a credit card may be requested upon check-in as a form of security deposit.
Day Spa Facilities:
Spa Wumurdaylin - new spa on Hamilton Island with treatments including body cocoon wraps, exfoliations, facials, massage and body treatments.

Accessible Facilities: Disabled room(s) available on request.
Childrens Facilities:
Babysitting available on request. Charges apply, payable direct.

- The Clownfish Club offers high quality care and is operated by fully qualified early childhood leaders.
- Open Monday, Tuesday, Thursday, Friday and Saturday 8:30am to 5:00pm, and catering for children aged between 6 weeks and 14 years parents can choose from the following three sessions (subject to availability):

- Morning Session: 8:30am to 11:30am.
- Afternoon Session: 2:00pm to 5:00pm
- Half Day Session: 8:30am to 1:30pm and 12:00pm to 5:00pm
- Full Day Session: 8:30am to 5:00pm

The Clownfish Club is subject to availability. Bookings are essential.
- Special rates are available to families with multiple children as are extended visitor passes for longer staying guests.
- Meals are not provided for small babies. Bottles and baby food must be supplied if required.
- Rates for all sessions are available on application and subject to change. Charges payable direct.
- Session times are subject to change without notice.
- The Clownfish Club also offers babysitting services 7 days a week.
Driving Info:
The estimated driving time from Brisbane to Shute Harbour is approximately 13.5 hours.
Transfer Info:
Airport Arrival
On arrival at Hamilton Island Airport, members of the Hamilton Island team will greet passengers with complimentary coaches for transfer to guest accommodation.

Luggage Collection
Upon arrival at Hamilton Island airport, guests will need to identify their luggage before boarding their transfers to the accommodation. Once the luggage has been identified, the porters will transfer it to guests room.

Transfers to Hamilton Island are not provided by the hotel, but may be booked at an additional cost with the following operators:

By Air
- Aviation Tourism Australia provide small aircraft transfers direct from Mackay and Proserpine.

From Shute Harbour
- Fantasea Cruises Blue Ferries offers a launch transfer from Shute Harbour to Hamilton Island Marina.

From Abel Point Marina
- Cruise Whitsundays offers a launch transfer from Shute Harbour to Hamilton Island Airport.

From Proserpine Airport
- Whitsunday Transit and Whitsunday Shuttle Service offer a coach transfer to Shute Harbour.
Important Information:
Valid for 01APR16-31MAR18: - Effective immediately the Hamilton Island Reef View Hotel will be completely non-smoking. Hamilton Island has always had a no smoking policy for all rooms however, smoking on the balconies was permitted. Going forward all rooms will be completely non-smoking and each level will have a designated "smoking area" which is located directly opposite the lifts. Tours, Activities, and Restaurants: Hamilton Island recommends all tours, activities, and restaurants are prebooked to avoid disappointment on arrival.
Valid for 01JUL16-31MAR18: - Effective from Friday 1 July a new procedure will be implemented that will ensure guests who have booked packages with tour components will not miss out due to availability. When a package is booked (for example the Romantic Escape package, or the Snorkel and Explore experience) if a specific date is not requested on the paperwork then guests will automatically be booked on the 3rd day of stay. If a specific date is requested via paperwork that date will be honoured, subject to availability. If the specified date is not available then the tour will be booked on the 3rd day of stay as per the new procedure. If neither are available the Reservations team will be in touch. When a package contains two tour inclusions (for example the Best of Whitsundays package includes a full day Reef trip and a half day Whitehaven Beach tour) these will be booked on the 2nd and 3rd days of stay. This will be interchangeable depending on tour availability.

Dates and Passenger details
Retrieving information....
Loading map, please wait...