Print Page
Heron Island Resort


Via Gladstone , Heron Island QLD 4680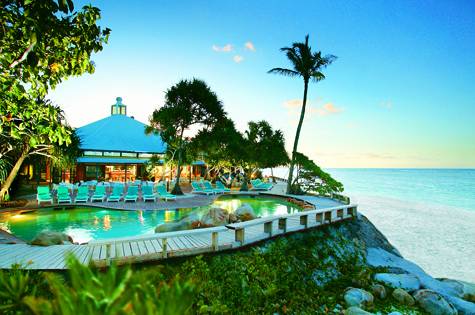 Pool
Heron Island is a true coral cay surrounded by white sands, crystal clear waters, acres of brilliant coral and an abundance of marine life. As a World Heritage-Listed Marine National Park, it is a true nature lover's paradise. The Island is a protected habitat for an array of wildlife including nesting turtles and Native Australian birdlife. Renowned for its diving, it has access to more than 20 Great Barrier Reef dive sites, half of which are within 15 minutes of the resort. With ecotourism in mind, the resort in conjunction with the neighbouring Research Station offers many activities such as guided island ecology, birdlife, reef walks (in low tide) and tours to watch the nesting and hatching habits of turtles (seasonal).
Turtle Rooms are at ground level with 2 rooms per block and feature a deck and outdoor area. Rooms are compact with bright and fresh interiors and are located in a garden setting, a short walk away from the beach and close to the central resort facilities.

Reef Room interiors are light and comfortable with a living-area extending outdoors to a balcony or garden. Positioned close to the beach, they offer reef and water views through a canopy of beachside trees and shrubs.

Beachside Suites have double glass sliding doors which fill the room with natural light and connect both the bedroom and separate living area to a large outdoor balcony. These suites offer spectacular views over Heron Reef and are set in a beachside location with direct access to the beach and reef.

Point Suites are roomy with uninterrupted views of the reef and ocean with a generous living area which extends to an extensive outdoor terrace with sun lounges. From here guests can walk out onto the lawn and resort gardens.

Wistari Suite interiors are spacious, feature a private outdoor terrace with wooden furniture and a 2 person hammock. These suites enjoy a secluded garden setting with ocean views and are a short stroll away from the central resort facilities, beach and walking tracks.

The Beach House is located beachside and set within a grove of trees offering filtered ocean views and a private boardwalk, providing direct access to the beach. With only 1 Beach House, it offers maximum privacy and is just a short stroll away from the central resort facilities and restaurant.

Only the Wistari Suites, Point Suites and The Beach House feature air-conditioning, a telephone and mini-bar.
Facilities:
Bar on Premises
Day Spa
Currency Exchange
Internet Facilities
Kids Club
Guest Laundry
Night Entertainment
Pay Phone
Pool
Restaurant - Licensed
Resort
Safety Deposit Box Available
Resort Shop
Tennis Court - Full Size
Water Sports Gear
Reception Hours:
8:30am to 7:00pm.
Check In:
Varies with transfers (usually around 2:00pm).
Check In/Out Info:
Please refer to travel documentation regarding access out of reception hours.
Distance To Nearest Airport:
72 kilometres north east of Gladstone off the coast of central Queensland. Please note that Heron Island is 1 hour ahead of Australian Eastern Standard Time (AEST), year round. Heron Island is situated on the southern Great Barrier Reef, on the leeward (western) side of Heron Reef.
Distance To Nearest Beach:
50m to beach.
Restaurant Info:
Shearwater Restaurant
Serving modern Australian cuisine. Open daily for breakfast, lunch and dinner.
Credit Cards Accepted:
All major credit cards.
Note that a credit card may be requested upon check-in as a form of security deposit.
Day Spa Facilities:
Day Spa available, charges payable direct.
Disabled Facilities:
Disabled room(s) available on request.
Childrens Facilities:
Babysitting available on request, charges apply, payable direct.

Junior Rangers (Available during Australian school holidays for children 07-12 years inclusive)
Junior Rangers program - a one off registration fee per child applies during Australian school holiday periods. The registration fee ensures full membership which includes - free access to Junior Rangers activities for the duration of stay, a Heron Kids Junior Ranger cap, Heron Kids Junior Ranger workbook and each of the 15 brightly coloured cloth badges as they are earned.
Note - additional fees apply for snorkelling, semi sub and fishing trips.
Driving Info:
Arrive at Heron Island by private helicopter flight (30 minutes), seaplane flight (25 minutes) or by coach and boat transfers (2.5 hours) from Gladstone Airport.
  
Private helicopter transfers, from HeliReef Hanger, Gladstone to Heron Island and return depart daily during daylight hours on demond. HeliReef Hanger is located 5 minutes drive from the Gladstone Main Airport. Transfers at own arrangements and expense.

Seaplane flights from Gladstone Main Airport to Heron Island and return depart daily during daylight hours on demand.
 
Complimentary coach transfer departs Gladstone Airport daily at 10:15am (AEST), arriving at Gladstone Marina to connect with the 11:00am (AEST) boat transfer.

Return boat transfer from Heron Island departs daily at 2:00pm (Island Time) arriving at Gladstone Marina at 3:45pm (AEST) connecting with the complimentary coach transfer to Gladstone Airport. Coach transfer will connect with all flights departing Gladstone Airport from 5:30pm (AEST) onwards.

Note: Boat transfer does not operate on Tuesdays and Thursdays from May to August.
Transfer Info:
1. Coach and Launch Transfers

- Heron Spirit is an air conditioned vessel with plasma screens showing reef videos, bar and free tea/coffee. Travel time is two hours (subject to tides and weather conditions).

- Heron Spirit departs from the Gladstone Marina. Guests arriving by car can leave their vehicle in the open car park or rent undercover security parking.

- No service operates 25 December, Christmas Day.

2. Marine Helicopters

- There is no definite schedule of services. Helicopter transfers connect with domestic airport arrivals to approximately 3:00pm hours June, July and August and 4:00pm hours other times.

- One suitcase per passenger - maximum 15 kilograms is permitted, soft luggage is preferred. Lock up facilities are available at Gladstone free of charge.

- Schedules may be affected by weather conditions.

- No service operates 25 December, Christmas Day.
Important Information:
Donations: - Heron Island Resort is in partnership with the Sea Turtle Foundation, a non-profit, non-government organisation dedicated to safeguarding sea turtle populations, migration routes and habitats. The partnership aims to provide guests with a greater opportunity to understand and support the Green and Loggerhead turtles which swim in the nearby waters. An optional donation of AUD10.00 on check-out will help to support the Foundation. Guests who do not wish to donate can request the charge be removed from their account. Christmas Day: - No check-in or check-out is permitted on Christmas Day as transfers do not operate on this day.

Dates and Passenger details
Retrieving information....
Loading map, please wait...