Print Page
Jamala Wildlife Lodge

999 Lady Denman Drive , Weston Creek ACT 2611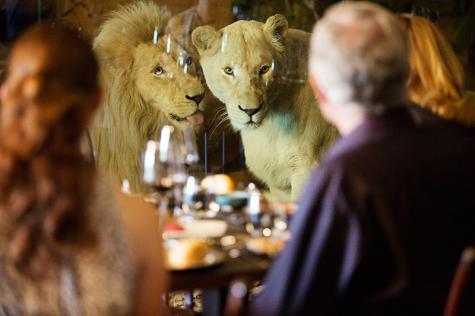 White Lions Dining
Welcome to Jamala Wildlife Lodge, the ultimate overnight safari at the National Zoo and Aquarium and Canberra's first luxury lodge experience. You will meet many of the most dangerous and endangered species on earth and learn how you can help their survival. The room rate includes your overnight accommodation, all food and dinner beverages and exclusive tours. All suites feature bespoke African fixtures, lavish king beds, optional climate control, complimentary wireless internet, Music system with MP3 input, Foxtel television and premium amenities. There are three magnificent accommodation options Ushaka Lodge, Giraffe Tree Houses and Jungle Bungalows each with their own unique wildlife experience.
Reception Hours:
7am to 7pm
Check In:
1:30pm to 2:15pm
Distance To Nearest Airport:
20min
Distance To Nearest Beach:
3 hours
Distance To Nearest Public Transport:
public transport available onsite
Restaurant Info:
The Rain Forest "Cave"
Credit Cards Accepted:
EFTPOS, VISA, MASTERCARD, AMEX, DINERS
Disabled Facilities:
2 disable rooms - Lemur 1 and Lemur 2
Childrens Facilities:
Please note some rooms are not suitable for children and others not suitable for children of certain ages. If you are travelling with children and have not advised their ages it is possible that we will not be able to accommodate you on your arrival. To avoid disappointment please let us know their ages as soon as possible, if you haven't already done so. as we are an operational zoo, all children must be 6 years or older and those under 18 must stay in a room with a least one adult in attendance. Due to the proximity of the Jungle Bungalows to animal enclosures, there must be at least one person 21 years or older in a Bungalow.
Important Information:
One Night Itinerary It is our pleasure to welcome you to Jamala Wildlife Lodge, the ultimate overnight safari at the National Zoo and Aquarium where a world of adventure, luxury and excitement awaits. Please find your itinerary below and we trust that you will enjoy your stay. ARRIVAL DAY 1:302:15pm Arrivals Meet in uShaka Lodge, enjoy an Afternoon Tea, mingle with your fellow travellers and become acquainted with Colin, and Colby (our Black and White Colobus Monkeys), and Homer and Tawny (our Queensland Groper and Tawny Nurse Shark). 2:20pm Optional Afternoon Safari You can enjoy this optional tour into the National Zoo and Aquarium with one of our talented guides and meet some of our beautiful animals. Your guide will deliver you to your room around 4pm. 2:203:30pm Later Arrivals If its more convenient to arrive a bit later, check in any time between 2:20 -3:30pm and you can either explore the zoo or relax in uShaka Lodge until you are escorted you to your room around 3:45pm. 4:00pm At Your Leisure Your guide will deliver you to your luxurious home away from home to relax or alternatively, you may wish to further explore the zoo. 6:15pm Head to the uShaka Lodge For guests staying in our Bungalows and Treehouses we invite you walk through the zoo towards the lodge for pre-dinner drinks. 6:30pm Pre Dinner Drinks This evening, venture through the Aquarium Rainforest and to The Cave' to enjoy pre-dinner drinks with your fellow guests and some exotic residents. 7:15pm Dinner Indulge in our Chef's African influenced dinner party menu. If Jamala Lodge is at capacity our uShaka guests will dine upstairs. 9:0010:00pm Transfer As the evening draws to a close we will have a bus service to deliver you back to your suite to enjoy the sounds of the zoo at night. DEPARTURE DAY 7:008:00am Breakfast Start your day with a full buffet breakfast in The Cave'. Please place your luggage on the inside of the front door to your room if you would like it collected while on tour and advise the breakfast team. 8:00am Morning Safari You will head back out into the Zoo to experience the sights and sounds as our residents awaken and prepare for the day. From 9:4511:00am Farewell Once you are ready to depart, please return your key to our Reception staff in uShaka Lodge. Guests in the bungalows or treehouses should make their way back to uShaka Lodge and go to the upper level of the aquarium and enter through the door directly to the left of the shark tank. If you're not in a hurry to reach your next destination, feel free to check out and enjoy the zoo for the remainder of the day. Remember to check if any spots are available for further animal encounters before you leave. **Please note, smoking is only permitted outside your room on the terrace/balcony/landing with the doors and windows closed. Please dispose of cigarette butts correctly. For the comfort of incoming guests, any evidence of smoking found in your room will incur a cleaning fee. Please find the following contact numbers to reach one of the Jamala team members during your stay: 02 6287 8444 from 0700am1900pm For Jamala Wildlife Lodge Reception 0438 914 361 from 1900pm2200pm For Emergencies 0473 252 986 from 2200pm0700am For Emergencies The above itinerary is a guide only and depends on many factors. In the event of inclement weather, the tours may be shortened or cancelled.
Dates and Passenger details
Retrieving information....
Loading map, please wait...